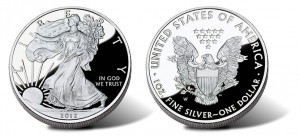 http://www.goldnewswire.net/2012-american-silver-eagle-two-coin-set-released?utm_source=feedburner&utm_medium=feed&utm_campaign=Feed%3A+GoldNewswire+%28Gold+Newswire%29
The likelihood of a special set was speculated upon earlier this year based on surveys sent out to U.S. Mint customers. Additional details of a pending set have started to appear in trade publications.
Found within the new two-coin proof set will be a 2012-S Proof American Silver Eagle and 2012-S Reverse Proof American Silver Eagle, both struck at the U.S. Mint's facility in San Francisco. Currently, these two coins are not scheduled to appear elsewhere, making them unique releases likely only available in the set.
The combination of a special proof set and the fact that coins found within it may be unique will undoubtedly increase the demand for the upcoming release. Collectors will recall the 25th Anniversary American Silver Eagle Set issued last year which sold out within hours of release. The entire mintage of 100,000 was accounted for in short order, owing in large part to the inclusion of two coins only available as part of the set — a 2011-S Uncirculated Silver Eagle and a 2011-P Reverse Proof American Silver Eagle.