Two weeks ago, on FOMC day, I loaded a number of ammo-cans into my truck and drove down to the LCS to show them what was inside and see if they wanted to buy it. The contents were precious to me, containing most of my stack of silver and all of my gold. but I learned a few things about myself and about dealing in precious metals.
I need to learn more.
Overall, I felt OK about the decision because we were keeping two ammo cans full of junk silver as crash insurance. (Of course, WW3 could change things).
Why sell out? Well, an opportunity to purchase real estate presented itself, providing a multi-family property where our son could live and have a part time job managing for us. The time came to pay off some borrowed fiat and smash the champagne bottle against the side of the ship. This particular ship should provide a nice monthly retirement check for a long time, and is actually a nice property where one could hunker down.
Now it is time to begin saving and re-stacking again. A death in the family gave a good start as my wife and her siblings divided up dad-in-law's stack. But I learned a few things about selling-out that morning on the phone with online dealers, and finally at the LCS, in the hour before Yellen took the microphone.
First, a large amount of silver is very heavy, and quite inconvenient to lug around. I had dug it up the day before, blaming the various holes in our back yard on the dog when a nosey neighbor peeked over the fence. Then, I did not sleep well, knowing our future security was sitting in convenient-to-carry ammo cans next to the couch in the living room until the next morning.
Second, I learned that dealers like to change-up their buy-back price on you. I got on the phone with my favorite online dealer to lock in a sell price before the FOMC minutes were released. I knew to the penny what that metal was worth at spot. And I also knew dealers pay various prices for different forms of metal. I gave a list of what I had to sell: 10 oz and 100 oz AG bars, gold eagles, and some one ounce generic gold bars in protective plastic cards. They said they would have to call me back with their price. 15 minutes later I was shocked to hear a price 00 below spot—much less than they advertised as a buy-back price on their website. They must read TFMR--seems that they knew the smash was in the cards.
I told them, "Hold that thought." Then I imagined the work involved in double boxing that metal in several cartons to keep the weight under 30lbs each, the rolls & rolls of tape, then paying postage for the weight, tracking, and insurance. Not cheap. (140 lbs oz of metal, if you must know.) A few years ago I arbitraged my Franklins into bars at 5$ over spot and the package burst open in the mail. The Post office delivered it in two parts. No metal was lost. Whew! Dodged a bullet.
Third, selling online is not quick. I'd be spending all day getting this metal in the mail, then have to wait 5 business days, after arrival, before they mailed out a check… 2 weeks to get the fiat. The interest on the renovation loan was beginning to sting a bit—two more weeks meant another few hundred dollars.
So I told them "No deal" and took the metal to the LCS. I had expected to receive spot price for the big bars (as I was told several weeks earlier) and spot for the eagles, and 2% under for the little bars. By the time I arrived, I figured he'd lowball me like the online dealer. Expecting the worst, I was pleasantly surprised when his price was only 00 under spot. I was disappointed he was dealing hard, but his offer was far superior. So we took it and walked out with a check that we took straight to the bank. Yellen spoke. Metals were smashed.
Fourth: The eff-ing check bounced! We found out late Saturday afternoon and had to wait all weekend to go to his shop. I worried all day Sunday that his doors would be locked on Monday morning. I even wondered if I'd really want a bankrupt coin shop if I won a lawsuit against him. Part of me felt absolutely sick.
He was totally apologetic and did not defend himself in any way. We followed him straight to his bank where he first did some transferring, then had a cashier's check issued. I am convinced it really was a simple error on his part. Fortunately, we had an account at that same bank so they honored the check instantly and credited our account. Whew! That was too close for comfort.
Even though the dealer had problems paying us, I still trust him… but not with a big sale again. In fact, I have no plans to ever make a big sale again. I prefer the 00-ish sales where a buyer hands you cash over the counter, or title to property, or a car title, or a truckload of firewood.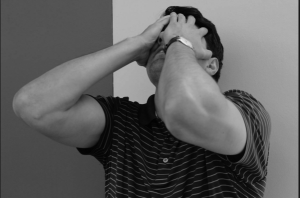 In the aftermath, I feared that I'd have "Stack-Seller's remorse" in a bad way. But it never hit me. My world did not end. It helped that metals prices continued to fall the following two weeks. I reviewed the risk/reward factors of our real estate purchase, versus the risk/ reward factors of holding the metal—or even getting caught without it when our dream day finally arrives. I felt good about the deal overall—especially since it gave us a property free & clear with no obligations to any banks. And I think I proved to myself that I am not motivated by mammon—that I really only serve one master.
We began planning how to budget and rebuild the stack, deciding I'd be a different kind of stacker in the future: smarter, shrewder, patient.
For starters, no more big bars. They are easy to count but, adding & subtracting the premium both ways puts them in the ballpark with Eagles or Maples, which do get spot price from the dealers. And as AGXIIK pointed out, when/if the AG price ever hits 0 per ounce, each big bar's sale must be reported to the IRS. I don't plan to have to sell the stack again, so when I do sell, it will be in smaller amounts, with smaller units of silver. The gold was so much easier to count, move, and brought a better price. Smaller denominations of gold will gain the same advantage—perhaps ½ ounce coins rather than a full ounce. And when we all may be forced to sell to survive, the economy around us will not be what it is today. Finding a dealer who can buy a large quantity may not be easy, or safe, nor would we want to sell it all at once then.
Next, we want to do a better job of stacking at the lows, instead of chasing price up and stacking at the highs. So I am sitting on my dry powder until the annual Christmas sale. Even though yesterday's action was encouraging, we have still not broken free of a down-trending channel that started Sept 8, and I suspect the banksters will continue pressuring price until the year's end. (Of course, WW3 could change things). But as long as we seem to have some stability, I am in no hurry to re-stack until December.
Image cannot be displayed
Finally, I am leaning toward stacking only Eagles or Maples (either metal) or purchasing lower quality graded & slabbed US collectable coins that are selling near spot. I suspect that counterfeiting will be a serious problem when metals finally return to the world stage as money. My LCS man told me that he prefers a sealed monster box to five 100 oz bars. It might be wise to purchase one of those assay machines like Charlie has. I have seen stories about fake Morgans, coined in China, that are have been floating around for several years now.
I have grappled with the best form of metal to buy over the years and welcome all advice. The recent experience convinced me that such decisions can be critical and expensive.
With my stack mostly gone, we are now redoubling our prepping efforts, planning to build a self-sustaining homestead and move in by this summer with our remaining fiat savings. (Of course, WW3 could change things). If this economy can remain stable through Trump's presidency another 3 years, we will all have the opportunity to prepare more fully and stack-em higher. And I seem to recall that 2020 was the year predicted for the big reset by one of the "know-it-all" wizards back in 2010—you know, the old guy with goofy hair that wrote a book about currency wars. I thought he was crazy then… now, ... maybe not?
I no longer predict the end of the world. We'll just keep prepping and enjoying life. After the crash we shall work our arses off in the garden and greenhouse and hopefully still enjoy life. (Of course, WW3 could change things).