It just so happens that the Fox Hole California Lawyer climbed out of had more surprises. Turd asked me to provide an update on some of the economic/political realities that New York City faces at this time. But if you haven't already, please go and read California Lawyers wonderful entry before you dig in here. But the first order of business. From New York City it's:
A once great city still enjoys a very vibrate Irish community that has a rich history back to mid-1800's when a wave Irish Immigrants descended upon America leaving political and financial repression as well as a great famine behind to make a better life for themselves in the New World. By 1855, 43% of New York Cities population was Irish. For those students of alternative/suppressed history, there is a plethora of evidence including maps, boats worthy of transatlantic travel that the Celtics were already living here long before Columbus. New translations of Native American texts go into quite a bit of detail about the relationship between them.
The Pubs are already filled to the brim with green faces celebrating their heritage. I might have to wait until evening before I can enjoy a tasty one without having to take a nap.
Now back to business with a look at the Economic status of our countries economic capital. So Step into my time machine. For this brief exercise, we need to travel further back in time to understand how the past has influenced current conditions. as we take a trip back to New York City, Circa 1974. 
Lets set the stage with the cultural setting: A very important part of NYC. Else why live here at all?
October 13, 1974, Madison Square Garden, at one time the busiest arena in the world. The Main Event-Old Blue Eyes, Frank Sinatra. The sound of the Orchestra, and the inimitable voice of Howard Cosell reciting the following:
Live From New York. The Cities whose landmarks are familiar all over the world. The World Center for Shipping, Transportation, Communication, Finance, Fashion and above all, Entertainment. A city that pulsates, always because of the millions of people, who live here, work here, visit here.
Video unavailable
Now Frank Sinatra was already 4 decades into his career just as Billy Joel is his but as circumstances would have it, Billy Joel is currently playing Madison Square Garden every month in perpetuity until nobody buys tickets. Like a man once told me at the corner of 125th Street and Lenox Avenue "Every Man Needs a Hustle"
Whether New York City can still claim those titles of world center for so many industries is a topic for another time other to say that the honor of the World Financial Center is slowly slipping away. Despite the pomp and circumstance of the evening, the reality outside of Madison Square Garden was much more grave as the Big Apple was on the brink of financial disaster. The nation was in a deep recession, unemployment rose to 7.5% and the country was rationing gas with long lines at the pump. The bear market between 1973 and 1974 was one of the worst bear markets in modern history. Gold peaked at $195.25 an ounce on December 30, 1974 making new highs along the way.
A NYC studio apartment rented for an average of $170 per month. The top concerns of New Yorkers in 1974, were crime, drugs, cost of living, transportation and housing. Vandalism covered the subway cars of an aging system making one think that a ride was a life risking proposition. 
The city was still in it's honeymoon phase with it's tallest building in the world, the 110 floor World Trade Center, which opened up in April 1973. of course, that view no longer exists.
Central Park, the first landscaped public park in America was now experiencing it's third cycle of deterioration in it's history. Massive layoffs, budget cuts, created a park with vandalism, piles of garbage, and a reputation for crime. Only 14 blocks to the south at 42nd Street, the historic Bryant Park adjacent to the NY Public Library was given up for wilderness filled with given drug dealers, prostitutes and homeless. 
The cross roads of the world, Times Square, once an entertainment Mecca for family with theaters and freak shows was now back to back XXX establishments.
All the props were on stage as New York City was on the brink of fiscal disaster. By midday that Friday, Oct. 17, 1975, NY's Mayor Beame, had signed a formal petition attesting to municipal default. The police commandeered squad cars, poised to serve legal papers on banks that were the city's leading creditors. A court order was pending to preserve the city government's assets, including cash and durable goods, like garbage trucks. The City of New York had insufficient cash on hand to meet debt obligations due today. NYC was about to declare bankruptcy.
Mayor Beame and New York's Governor Hugh Carey immediately visited President Gerald Ford to request a bail out for the City of New York. Shortly after, one of the most iconic headlines in history covered the Daily News "Ford to City: Drop Dead Vows He'll Veto Any Bail-Out" 
Without the aide of Federal bailout money, NYC had to pull itself up from bankruptcy. It turned to Wall Street and to a man named Felix Rohatyn, known for his time as a partner at Lazard Freres and his stint as US Ambassador to France. The City demonstrated it could not handle it's own financial affairs and the financial reigns were turned over to the state to pay it's bills.
Wage freezes, transportation fare hikes, layoffs, increased taxes were the order of the day. Central Park and Bryant Park formed Conservancy's which were private management groups, filled a Board a Directors from NY's most preeminent corporations for funding along with wealthy benefactors, and private citizens. The city essentially acknowledged that it could no longer maintain it's own infrastructure. This is how these great parks are maintained to this day.
Since it's early history back to 1789 when NYC was America's first capital, it experienced periods of boom and bust. Cycles of prosperity and poverty are as certain as high tide and morning sunrises. 40% of all Americans can trace their arrival to the United States back to NYC and Ellis Island. Thus, NY experienced rapid growth as an influx of immigrants arrived however, these periods of growth and expansion were followed by periods of contraction. Most notably the Great Depression which brought rising crime and poverty rates . The 1980s saw a rebirth of Wall Street and the city reclaimed its role at the center of the worldwide financial industry. However, unemployment and crime remained high, reaching peak levels in some categories around the close of the decade and the beginning of the 1990s.
And then something new arrived on our shores. A story which is still being written. A new massive wave of Asian Immigration and massive foreign capital flowed into NYC. We'll get back to that soon. First, we need to look even deeper at the culture in the mid 70's and how it played in a roll in how New Yorkers handled such a fiscal crises and how the disappearance of such culture doesn't bode well for our next bust period.
This culture is what has been termed as Vanishing New York. Despite, the tremendous financial difficulties experienced by the average New Yorker, there was a culture of small business's, often through connections in ethnic communities, that helped poor New Yorkers get by. Small business once the lifeblood of many communities are vanishing rapidly. Today's generation has no memory of the friendly Jewish Butchers, Irish Pubs, Italian Bakeries and neighborhood pharmacies as butchers have been replaced with Whole Foods. Simple but hearty fare and inexpensive drafts of the Irish Pub have been replaced upscale restaurants sponsored by hedge funds and premium beers.
If Mrs. Grossman hadn't received her social security check, the butcher would lean over the counter and tell Mrs. Grossman, "No problem, tell me what you want." And usually she got a discount and the butcher never charged one cent interest. Want a taste? For some the free samples of salami and baloney satisfied them sufficiently to call it lunch. Today, Mrs Grossman walks into a Whole Foods to find expensive cartons of organic milk shipped from Pennsylvania's Amish country for five bucks a pop. No longer does she have access to her friend the butcher that would ensure that she had the staples she need in the fridge until pay day. 
Mama at the local Italian bakery knew you by name and would sit at your table over a cup of espresso asking you about your family. My favorite Irish Pub closed it's door in the name of progress. Steaming steaming pots of pastrami, corned beef and a cold draft beer and a lunch for under 10 bucks have been replaced by high end restaurants with Maitre D's to sit you and they are usually co-owned by a hedge fun. At the ole Blarney Stone, the bartender knew your name, called your name out before both feet were in the door and had a cold one already sitting on the bar with your name on it. And I never put ketchup on my french fries because I knew I'd be feating the bar tenders who preferred salt and pepper. 
Your local pharmacist who knew the name of everybody in the family and if you couldn't afford your full prescription he would give you just enough to carry you over. Now on every street corner is Duane Reade, Walgreens and Rite Aides spending inordinate amounts of money lobbying congress to change medical and regulatory policies for their benefit.
The Italian bakeries and coffee shops have been replaced with lattes at Starbucks with no Mama behind the counter handing you a free cookie to be washed down by that fragrant Italian espresso. Yes, The retail box stores which spends millions upon millions lobbying congress. Small business, no leverage, and no access to power to influence laws and regulations that are responsible for their demise. The depersonalization has broken the old ways of doing business, community ties that were once congregated around old immigration routes are disappearing.
Suffice to say, the next time bust period won't be as friendly to those on fixed incomes. Free markets? I think not. New Yorks disappearing store fronts with ghosts of vinyl records, double features and pierogi's aka Vanishing New York has been meticulously chronicled by a blogger that goes by the name of Jeremy Moss. Moss concluded that under the three year term of Nanny Mayor Bloomberg, including his illegal third term, 6,926 years of history in the erosion of small business took place in just three terms. WOW and SIGH!
Now let's get back to great wave of Asian immigration and connect the DOTS to see how that is related to those 0 studio apartments that are thing of the past.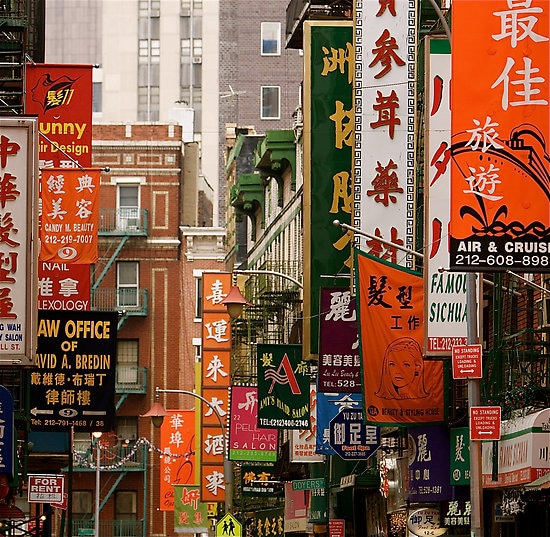 Whereas our first wave of immigrants were Europeans escaping from financial repression trying to make a life in the New World, a good percentage of our most current wave of immigrants got cash to burn. Not all of them, some still seek the American Dream and work long hours at hard labor. However wealth has come here to to invest in what they perceived as a strong dollar. They are not readers of Turdville for sure.
In the 90's, Chinese, Japanese, Indian, Bangladesh immigrants flooded neighborhoods which used to be Irish, Italian, Greek and Jewish. Today, New York City has four Chinatowns, the smallest would rivals any American Chinatown I've visited, Boston, Phili, Chicago etc… Those 0 studio apartments have become 00 apartments in Harlem and in the posh neighborhood of Tribeca, a studio will run you ,700 some due to cycles of inflation and demand created by foreign capital inflows. .
I am certain I don't have to tell any of Turdville the profound of effects of three consecutive bouts of QE and the resultant low velocity of money where people hoard their cash. The demand for real estate caused by over 22 billion dollars in capital flowing into the city by Chinese buyers and before them Saudi Tycoons and Russians. In addition to family retail buyers being recruited by local governments in oversee promotional campaigns, Chinese buyers are snapping up luxury condo's, hotels such as the Waldorf Astoria, office buildings such as the General Motors Tower. Understand that the disappearance and vandalism of the 70's is being payed for by foreign money that doesn't want to live in a pig styie.
Foreign investors have been pouring into top-quality New York properties, in part out of the belief that the city is a safe long-term bet, and that higher-end buildings will see values grow faster than less-flashy buildings. High demand, strong foreign capital flows, low dollar velocity, increasing unemployment serves to put the squeeze on middle class New Yorkers.
To add insult to injury, quaint New York is now being advertised by the NYC Tourist Board as Taylor Swift's NY. A Pennyslvanian!!! Puuleeeze! There ain't too many New Yorkers happy about this one.
Video unavailable
Let's summarize some of the lessons of the 70's financial crisis. Local Governments can't maintain infrastructure and parks. It seeks handouts just like the population, unscrupulous ties with Wall Street and corporate support to maintain the basic functions of a thriving metropolis.
A strong dollar relative to other currencies driving foreign investment while the Fed floods our cities with fiat while the banks sit on the reserves and the public hoardes its money creating a form of stagflation. Hard working citizens find it to difficult to pay rent or their mortgages and eat. Unfair access to government has driven the small guy out of business and corporate owners of real estate would rather have an empty storefront with tax write offs than rent a storefront for below market The busts become increasingly more difficult on the lower class.
Finally, one more quality of life issue for fans of George Orwell. The new New York City ID. I believe San Francisco was the first to implement such a plan. It's not enough to have a state driver's license anymore , a passport, a social security card, now they want everybody in New York to have a local ID. They have been seducing New Yorkers to get their ID with offers of free admission to parks and museums, discounted Broadway show tickets and much more. Yet, it should be no surprise that the city needs to have a better record system to track it's citizens. Using the Ebola Non-Crisis as a motive, City Hall has been working on a tracking system incase of martial law. And that's confirmed by a person working on the system.
And now, I leave you to go enjoy the res of this fine St. Patty's day in search of a four leaf clover to add to your stacks. Let's take it out with some fiddle and Irish Whistle. Some of you folks know how much I love a good flute.
Video unavailable