In the spring of 2002 I relocated my family moved from downtown into the country. It was a difficult move. My wife and I stumbled around in a daze for several days coming to terms with the differences. But let me back up a number of years and fill you in on how we got there. I can't say that I have sage advice for all to follow. What I can do is tell our story, mistakes and all, then explain my reasoning for the move and let you glean what is useful.
Image cannot be displayed
My parents drug me kicking and screaming from rural Colorado in 1967 and raised me in Phoenix Arizona—a growing city with a bright future. By age 30 I had come to see the city as too hot, too large, and too everything I had learned to dislike. I chased a job to Albuquerque NM, for a year, made a bunch of money, and then we departed on the "graduate school tour" which led to Syracuse NY, then to Memphis TN, a city not unlike Phoenix in size. By 2000 I had lived in large cities for 33 years.
But a career-job in rural Indiana at a small branch of a large college began to change all that. Ignorantly, we bought a beautiful Victorian mansion right downtown for a mere 65K. We loved the house, but the neighborhood betrayed us. The house showed well with a smiling realtor at 10am, but the neighbors came out to play at 8pm. Music, yelling, swearing—the wafting scent of marijuana from next door—arguments and fights right in the street. We perceived that over 75% of the large homes in a 12 block radius had been partitioned into small crappy apartments and rented to the city's poor. We couldn't allow our kids to play out front. We holed up inside and began to wonder if we made a mistake. By our second day in that neighborhood, I was certain of it and we started looking around the area for a better place to live. But in the meantime, I restored the home, built the attic into a 3rd floor, and we sold out at a loss two years later as property values plummeted in the city.
Life in the city had its moments. My wife and I enjoy the entertainment—theater, concerts, shopping, the ease of finding employment throughout that period. There is also an anonymity where you can break away from one social group and enter another without even moving, which came in handy on occasion. For those decades, when the economy was stable and jobs were mostly plentiful, we enjoyed the city life and never considered anything different. But the crime and poverty pressing in on us took a toll.
We had become friends with a family that lived several miles outside of town. They lived in a farmhouse on 160 acres and had put in a pond in the midst of a 30 acres of hardwood forest at the edge of their property—their own private resort, with two small cabins and plenty of camping room. Some of our fondest memories are from spending weekends there camping with several other "homeschool families" with 20 or so children entertaining us with impromptu theatrical performances by the light of a bonfire. I wanted a place like that!
So, in the Spring of 2002, we bugged out of the Victorian mansion to seven acres on the edge of town and into a different world. (I found an overhead pick of the place online.) We were city slickers, plopped into the country and learning to deal with all its challenges. It was a prepper's dream, except we were not preppers. I wrote about the flooded barn in an earlier post. But I was completely overwhelmed by the amount of labor required to keep the place mowed, trimmed, and looking presentable. My job as an assistant professor kept me working 60 hours per week as well. After two years, with encroaching weeds and unfinished projects, it was just too much stress. I just wanted a house with a small yard again, so we moved to Dayton Ohio, back into a suburban lifestyle, back to all the entertainment and conveniences the city had to offer. I commuted 45 minutes. We had some large trees in our back yard in Dayton and my daughter would climb to the top of one and sway up there for hours at a time, missing our country home. My son retreated into video games. I think selling that little farm and moving back to a city was the biggest mistake I have ever made, perhaps bigger than missing out on $4 silver.
We began looking for another place in the country. After finding 5 acres with a pond near our old place, we moved again. (Note: moving a family too often is dangerous, even in the same locale.) I took a more laissez-faire approach to the land, letting the forest be a forest and only regulating the immediate area around the house, keeping it trimmed and neat. But the soil quality was horrible for gardening. (As an aside… learn about soil quality if you want to get serious about gardening.) What can I say about the quality of life for you and your children—especially the children? At our country home, my son built forts wit his friends, shooting at things with BB guns and riding his go-cart around the property. My daughter lurked around the forest catching all kinds of critters and keeping a veritable zoo in her bedroom in various terrariums and fish tank. She raised chickens, warding off predators, then insisting on butchering them herself. She fished by the hour in our stocked pond for bass, catfish, crappie, and caught a large snapping turtle one day (that one was scary).
Six years later, health concerns (from too much stress) prompted a successful job search—not easy for an old white guy so I took it as a sign from God. We moved back to Arizona in 2013 to start preparing a self-sufficient life all over again. The largest challenge in leaving the city life for me was changing my way of thinking. After 2008, that became easier. Yet for me, making the move was difficult, required commitment, but has been worth the trade-offs.
Why not move out of the city?
​Most cities have quite of choice or rural living surrounding them. Even a place like Phoenix AZ has nearby towns and areas where one can live unmolested in the desert in small communities. Memphis, Syracuse, and Dayton all had much closer viable rural areas.
Housing is typically cheaper in rural areas.
Homes with some land are everywhere.
Jobs are not as far as you might think.
Entertainment abounds, if you look around.
Neighbors are more stable.
But you would have to commute. And choices for shopping and restaurants are limited. Entrepreneurs have it easier than ever with using the internet to promote and transact business. I teach online and my wife oversees her real estate from afar via a manager. We could live about anywhere, but chose the edge of a small this time city so our kids could be close to the social life of the university.
​"But Dr J, what about my job? —it is a really good one and I cannot leave!" If it is that good, you might be able to afford an apartment in the city and spend weekends at home a couple of hours away.
"But Dr J, I love the theater & other highbrow events, and my kids attend an elite private school." Yes, I understand. School is important and my own children suffered at a rural high school where 90% of students had no ambition. Had they told us how bad it was socially, we probably would've yanked them out and placed them in a private school in town where I worked.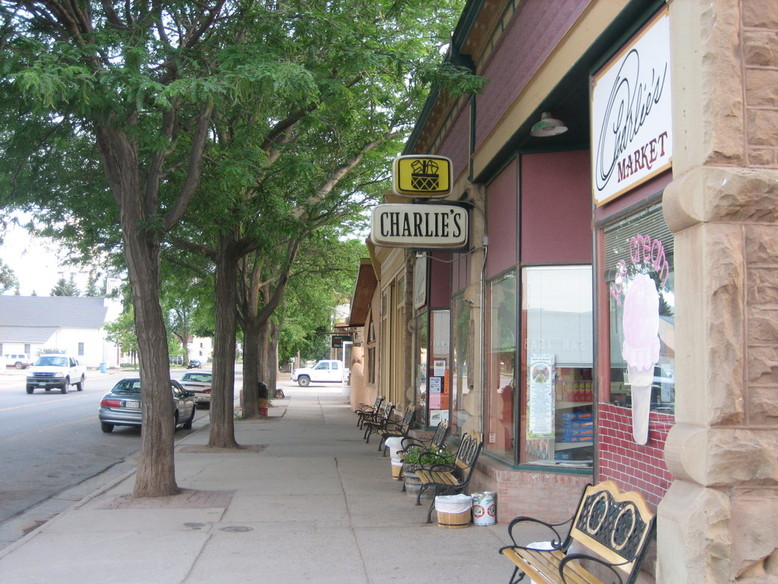 "But Dr. J, It's hard to break in to the social community in a new town" Well, not if you join a local church and get involved. Or if you are more athiestical, there are numerous non-profit organizations everywhere with other volunteers lonely for new friends. These organizations always need new-blood in volunteers and board members. In each new town I have lived in, I have found that the locals give you a chance. My wife has already been invited to be a board member for one organization in our new town and we have settled into a new group of friends.
When I was a little kid, we bought a summer house in La Veta Colorado (pictured at right and below).* We were a hippie family in a cowboy town in the 60s. My agnostic dad said years later that we should have joined the local church right away and we would have fit in a lot better.
"But really? leave the city for the country now? Is that wise?" Since we may have another few years (or a decade) of this deteriorating Keynsian economy, making a move would give time to settle in, learn a useful skill, and even prosper. And the sooner you make a decision and act, the sooner you can begin to rebuild a social network, fit into the community, and settle in for whatever comes.
Image cannot be displayed
If you stay in the city, I argue here that the risks are greater. If the risks are already approaching your tolerance level, perhaps you should consider a move. Seriously, why stay in the city? In America, I see the free shit army growing with little hope of turning around their lives. I see too many crumbling streets and buildings with too few energetic entrepreneurs starting businesses and rehabilitating. Empty mini-mall and big-mall space is an epidemic. Vacant and under-utilized industrial space is everywhere. There are not enough jobs. If Detroit is simply ahead of the curve, our cities are staring at a bleak future.
For many of you, the move is a no-brainer. For other it would be difficult. But I make my case for the rural life. The burden of proof then rests with those favoring city life. I see it as a question of now or later or really wishing you would've while you could've. So in the spirit of the peripatetic school, I invite discussion of the pros and cons of leaving the city for a rural or small town life. I know we have many readers out there who rarely post. Please join the discussion and let us hear about your experience and conclusions in this all important matter.
* I really miss this skyline in La Veta. The peaks are called "Wahatoya" in the local native American language—"the breasts of the world." Seriously, you could get this view from just about anywhere in town. Perhaps I'll return one day.