Recently I discussed a generalized sequence of money flow between the different asset classes as the business cycle rolls along it's way like a ripple passing over the different sectors of the economy.
Today I'm going to do the same, only different! I want to look at correlation sequences, reminiscent of last time, to be sure but not quite the same thing. I would like to see whether the Central Bankers have succeeded and inflation is indeed returning to the West and Japan.
I am not going to assume that inflation means growth.
(That last phrase contains a summary of so many mistakes currently being made by those in charge. Doesn't it?)
I propose that we will move from deflationary stagflation to inflationary stagflation for a period. There will be the usual tripwires scattered out there to catch the unwary who attempt to game this. Liquidity will be pushed and pulled without warning to shake us off. And it is to be expected that the Too Big To Fails, the captor-buyers of the western nations governments, will be pre-advised by .. well ... the top echelon of countries who during their stay in power are beholden to and indebted to repay the banks generosity.
I like to imagine the world's capital as an excited but novice bunch of gamblers in a casino for the first time. They are running from table to table looking for a win and always running towards the greatest noise emanating from whichever table might be where the next winning game is happening. The exciting noise and hubbub is assumed by capital to mean that people are beginning to get some winnings at that table and this is a signal to get in on the act.
Unfortunately the truth is that the rumour mill is the media, and media are controlled, and an attractive rumour is merely one more of a long trail of carefully laid traps going back decades. It is an in invitation to join a table where hardened pokerfaced players sit patiently waiting for their media to suck in more fresh public money for the taking. Individual fund managers are good, little guys are more hassle. Public money from the public's government is ideal and it comes in greater amounts, but whichever it is, one way or another, the public will get out of the casino with emptied pockets when these guys are done.
Well that's just how it goes I suppose.
Meanwhile the public and their fund managers continue to walk into money traps, all the while measuring their "success" against a false inflation measure provided courtesy of policies put in place after the inflationary 1970s, and enhanced since right up until the CPI Inflation Index used to measure real investment returns and GDP have been transformed into non inflation indices. Likewise the asset prices and valuations, are measured by comparison to the interest return of "safe sovereign assets" to wit the T-Bond JGB & long Gilt. But those bonds are priced to a yield lower, and a risk higher than any freely available measure of same reveals. That may have something to do with rating agencies captive to their dire historical performance leaving them vulnerable to regulatory hounds of justice, and negotiations to avoid dame hounds, which is itself another pretty large subject.
For the moment, the persecuted for trivia Egan Jones, who downgraded somebody big first deeply annoying Mr Big, and another Chinese ratings agency seem to have the better credibility. Unfortunatley that doesn't mean that the managers of your pension fund are actually using these better variety of rating agency. It's far more likely that they choose, in preference to quality, the more pliable rating bodies. Ownership and control is all, and the stuffing of funds with overvalued paper goes on as if subprime never happened.
So caveat emptor a thousand times those of you who walk upon Wall St's trapdoor fitted stage. Many actors will take the big drop before the play ends and the final curtain comes down. The drama will continue for as long as the treasure exists. This is the great treasure all scoundrels strive to steal - a staggering treasure - the retirement savings of the boomer generation. While some treasure remains the scoundrels will continue to steal. They want all of it.
Now let's look at some charts.
1987 Crash Top In Stocks
First the sequence of highs for different assets at the 1987 crash top :
(bonds=blue; stocks=red; gold=green)
2000 Stocks high and Reservoir Storing Inflation
Next a look at the inflation reservoir effect, and how inflation becomes stored until a later time. The sequence of highs is also highlighted here at the 2000 stocks top:
Has this phenomenon happened before? Sure!
Next (below) is the 1970s stagflationary trading range high in stocks, and the low for gold in 1976.
I don't have bonds back this far so the sequence at bonds highs (the blue line) is unfortunately not shown for the full period shown.
However compare this 1970s chart with the 1999 low for gold/2000 stocks high shown above which shows a similar sequence of capital flows between asset classes.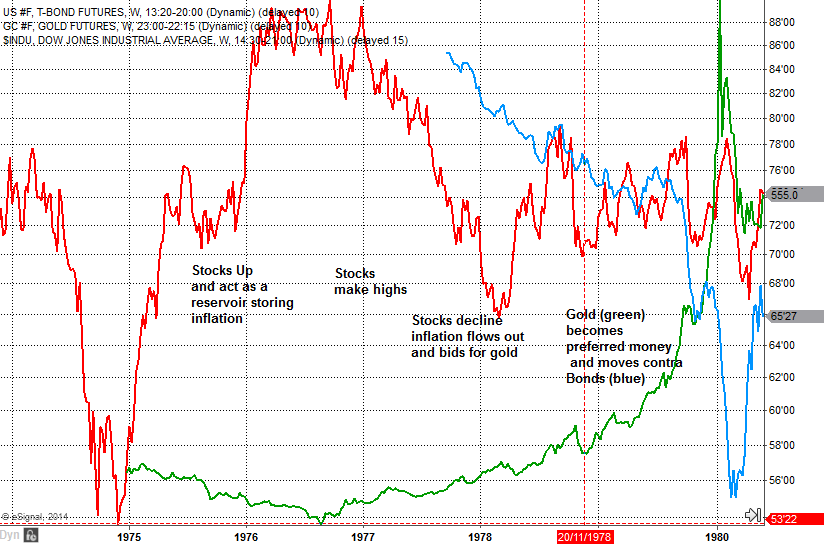 And my last chart for you is different. A riddle!
Remember that meeting between POTUS and certain bank CEOs in Q2 2013? And what happened in the PM markets only hours afterwards? Who says TBTFs don't get warned when the rug is going to be pulled?
Well here is another fascinating but unexplained moment in the charts of 2013, it concerns two dates which are marked in this chart. The chart shows the correlation between gold in USD and the FX rate for the Chinese Yuan. Lets call it " the purchasing power of Yuan for Gold", or even better, the "the price of hedging huge T-Bond portfolios":
Qui bono?
Sources:
Some of this discussion references a previous Blog called Gold & Business Cycle Relationships : https://www.tfmetalsreport.com/blog/5346/gold-business-cycle-relationships
.
Argentus Maximus
The author posts daily commentary on the gold and silver markets in the TFMR forum: The Setup For The Big Trade. More information about the author & his work can be found here: RhythmNPrice.