Today's blog is an audio visual one. Hopefully this format works and gives new possibilities for future blog posts.
The Dow is making new highs as we speak, and Wall St, which has been pushing it up with money borrowed virtually for free from the Fed,is ringing the bell to draw forth fresh paper, I mean money, from fresh meat, I mean investors and funds, since all is fixed and the stock market proves it's so.
Well are they right? I do think we will see fresh money drawn out, and the Wall St sharks will devour it promptly. But after, what then? Is the great innocent investing public tapped out, or can they buy everything thrown at them and push prices higher? I took a look at longer term timecycles to see what they say about the Dow. As it happens, it's not so pretty as the news of new highs would suggest.
Meanwhile although the Dow is in new high ground, it is banging into an overhead resistive trendline already. Probably won't stop the stock indices in their tracks, but will produce a fresh area of sellers which the Fed and capitulating bears have to buy their way through, ... or not.
Have a look at this:
First the Dow ... breakouts have been labelled "A" and "B", but what about that overhead resistance?
Now the Russell ... also a breakout leaving bears defeated and buying their way out of bad positions, tipping around that upper edge of the broadening pattern too. Looking bullish so far.
The Nikkei (below) after a big rise has also found it's way back to a place located right under long term overhead resistance, this time a descending long term trend. There should be plenty of big sellers waiting above such a trendline, which is also a descending trading range's top edge.
Next the SPX, renowned (in the writer's opinion) for false breakouts, which currently looks marvellous: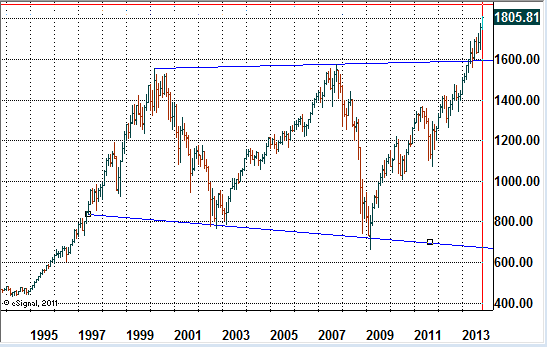 That's the best one I guess. But while such strength takes time to bleed away, I suspect that after a little time fizzling nicely, the natural long term waves will begin to return to stock indices, and what do they have to say at the moment?
Note they are long term cycles, a general idea only, with no ability to provide specific information. Just one individual method's quite fuzzy and error-prone view forwards. I provide a couple of test analyses in the past for evaluative purposes, and also the one that matters most, placed on the right hand side of the chart.
Here is the link to the mp4 file (9 MB filesize).: Argentus Blog 1 Dec 2013 - Dow Long Term Cycles
Hope you enjoy it.
Argentus Maximus
The author posts daily commentary on the gold and silver markets in the TFMR forum: The Setup For The Big Trade. More information about the author & his work can be found here: RhythmNPrice.