There is always a considerable amount of discussion in 'our part of the internet' about the role China is playing, and will play, in the monetary system. Currently China holds (or more accurately, is believed to hold) $3.66T in foreign reserves – assumed to be primarily in US Treasuries. While the total comes from PBOC, the composition of the assets held is speculative. There is also, of course, the ever-popular 1,054.1 metric tons of Chinese gold reserve:
"China hasn't announced any changes to state gold reserves since authorities in 2009 said bullion holdings totaled 1,054.1 metric tons." -- though the Bloomberg article does grudgingly acknowledge that there 'may be some discrepancy' between the reported end-2008 figure and current reality...
So, what's up? Is China content to ride the status quo, keep buying foreign currencies to keep the yuan down? Is it moving to advance the cause of the SDR by pushing for inclusion in it, along with Russia? What, if anything do the above have to do with the buildout of Chinese gold production capability, and in-country reserves?
As I started digging further, I came up against what any average investor faces on a daily basis – it is extremely difficult to find specific, current, reliable information that is presented in just the way one is seeking it. If it HAPPENS to be available, it is an expensive report to acquire. The questions I was seeking answers for:
How much non-China-based gold reserves/deposits does China control?
What is the rate of production of the COMBINED Chinese-controlled gold mining operations worldwide?
I was not able to find all of the answers, but will try to share the breadcrumb trail that I eventually traced, and the data sources I stumbled upon. They present (what was to me) a remarkable sketch of the lengths China is going to in order to secure resources around the world.
Here's a Forbes/Kitco article where Jim Rickards and our very own house favorite Jeffrey Christian agree on something:
"What the Chinese want is to have the Yuan in the SDR basket but not open up their capital account," he said. "That is a backdoor way for the Yuan to be a de facto reserve currency without having to give up control." - Rickards
They BOTH insist that:
"The two analysts also agree that expectations the Yuan will become a reserve currency on its own are extremely overblown."
What is brilliant about THIS particular Forbes article is that it presents quite enough half-truths to completely confuse and mislead interested investors, WITHOUT being a flat-out lie.
"Rickards said he thinks China has not updated its reserves because they continue to buy gold. He said China has a pattern announcing their reserves every six years, after the bank has reached its target. […] On the contrary, Christian said that he suspects that one of the reasons why the bank hasn't updated its reserves is because it's not buying that much gold or as much gold as people expect."
BRILLIANT!
OK, onto another option: China is working in conjunction with the other BRICS nations and to a degree with the Eurozone to construct the fabled gold-based trade settlement system that the Jackass is always going on about? One of the indicators, the extensive and growing network of yuan-based trade settlement swaps with nearly all major Chinese trading partners is well established. The other indicator of massive gold inflows into China has also been thoroughly documented.
But what I was really interested in stems from this table from the USGS (reserves being deposits in ground):
Mine production

2011

2012 (est.)

2013 (est.)

Reserves

United States

234

230

3,000

Australia

258

250

7,400

Brazil

62

56

2,600

Canada

97

102

920

Chile

45

45

3,900

China

362

370

400+

1,900

Ghana

80

89

1,600

Indonesia

96

95

3,000

Mexico

84

87

1,400

Papua New Guinea

66

60

1,200

Peru

164

165

2,200

Russia

200

205

5,000

South Africa

181

170

6,000

Uzbekistan

91

90

1,700

Other countries

640

645

10,000

World total (rounded)

2,660

2,700

52,000
Note that China is the largest producer of gold in the world (has been for 7 years running now – estimated in italics my addition from reports below) -- but at current rate set to exhaust its reserves in 4-5 years.
Some other good starting points:
PriceWaterhouseCoopers has a global Gold Price Report, and Thomson Reuters GFMS publishes an annual report (I am not sure they meant to share it, but here it is: Gold Survey 2013). The former is compiled from a survey of gold mining companies, and has the following passage:
"China is keen on gold for two main reasons:

The life of mine for China's gold mines is low. To ensure they have secure access to gold in the future China is looking at promising gold acquisitions abroad.
The Chinese Central Bank has increased its gold held. Thus, it is expected to support state-owned entities acquiring additional gold assets both in China and abroad."
[What is left out, of course, is any reference to any possible upcoming fundamental shift in the role of gold in Chinese monetary policy.]
The report has interesting, if anecdotal, examples of Chinese mining expansion, and both gold and silver data.
The other, GFMS report is more comprehensive, tackling everything from cost of production, composition and direction of imports/exports from major producing regions, GOFO and much more. Definitely worth a look. It includes this table:
TOP

20

GOLD

MINING

COUNTRIES

Production

(t)

Change

2011

2012

12.H1

13.H1

y-o-y

China

371.0

413.1

182.1

197.8

9%

Australia

258.6

251.4

124.8

126.9

2%

United States

233.0

231.3

112.3

110.1

-2%

Russia

215.6

230.1

89.5

96.3

8%

South Africa

202.0

177.3

93.4

87.4

-6%

Peru

187.6

180.4

92.8

84.4

-9%

Canada

107.8

108.0

51.1

60.9

19%

Ghana

91.0

95.8

54.3

51.9

-4%

Mexico

88.6

102.8

52.3

49.6

-5%

Indonesia

120.1

89.0

45.8

42.6

-7%

Uzbekistan

71.4

73.3

35.9

39.2

9%

Brazil

67.3

67.3

32.3

36.4

13%

Papua New Guinea

63.5

57.2

28.8

31.0

8%

Chile

44.5

48.6

23.0

25.4

10%

Argentina

59.1

54.6

26.7

24.5

-8%

Mali

43.5

50.3

24.2

23.9

-1%

Tanzania

49.6

49.1

24.6

21.2

-14%

Kazakhstan

36.7

40.0

18.6

21.1

14%

Philippines

37.1

41.1

20.4

20.1

-1%

Colombia

37.5

39.1

19.6

20.1

2%

Rest of World

453.8

464.3

222.0

244.7

10%

World

2,839.10

2,864.00

1,374.40

1,415.60

3%

Source:

Thomson

Reuters

GFMS
It has another, completely unintentionally hilarious table on page 5 of the report, which is an apt illustration of the absurdity of our circumstance: between 2012 and 2013, global supply and demand each expanded by 1.6% (nevermind the doubt that might arise from how the components are calculated) – but during the same period gold price dropped by 13.4% in USD/oz terms. Yeah, and these are open and fairly traded markets, and the USD has gained over 13% in purchasing power in the last year.
But returning to our story – take a moment to go back up and compare these lists of gold-producing countries with the map below.
There is this interesting little infographic from Stratfor (along with a brief report on the topic of China and African investments) -- open in new tab for full size:
"Chinese Investment in Africa is republished with permission of Stratfor."
There appears to be strategic, long-term and quite extensive project underway for the 'benevolent colonization' of Africa – and wherever else has resources:
"Meanwhile, trade data shows that just three commodities - iron ore, oil and soy - and their derivatives - still account for 80 percent of Brazil's exports to China. […]

Derek Scissors, an expert on Chinese outward investment at the American Enterprise Institute, a Washington think tank, said the sudden spurt in investment, followed by a backlash and then a withdrawal, was "absolutely classic Chinese behavior" that also occurred in sub-Saharan Africa in recent years.

"What happens," Scissors said, "is you start getting people saying 'Wait a minute, we are running a huge trade deficit with China. They are investing $20 billion and grabbing up all our resources. Are we a colony?'" – Reuters
Wherever one turns, it seems like Chinese corporations are trying to buy resources, some of more interest to us here than others:
"China National Gold Group Corp. is considering investing in mines owned by Robert Friedland's Ivanhoe Mines Ltd., including the Platreef project in South Africa, a person with knowledge of the situation said. […]

State-owned China National Gold has also looked at other Ivanhoe projects located in the Democratic Republic of Congo and Gabon, though prefers more developed countries like South Africa, the person said. No terms for a purchase of Platreef have been finalized, and China National Gold could instead consider buying a stake in Vancouver-based Ivanhoe itself, the person said." – Vancouver Sun
Australia also happens to have a relatively low population density as a country, and lots of resources:
"Australia's business-friendly conditions make it a priority for Chinese outward direct investment, according to a recent HSBC survey. The survey reveals a large proportion of Chinese companies are expanding offshore into the manufacturing and retail trade sectors - rather than mining as expected; and are prioritising markets like Australia that have favourable business and political conditions.

These insights are drawn from a survey by HSBC1 based on responses from more than 250 Chinese companies that have built or are considering building a presence overseas. Amongst those surveyed, 17% were large conglomerates with the remainder being of a corporate or middle market size." -- our very good friends at HSBC
The Chinese media like to portray it thus (there are some who say not all parties involved agree with the depiction):
There is a crucial paragraph from People's Daily article that struck me:
"People don't understand the mathematical mechanics of compound interest. China's growth might have slowed slightly but the base is huge. Last year China added another Australia to its GDP, by 2018 this will be another Germany and by 2021, another Japan and that will be every year. The volume demand for resources will not decline," he says." – People's Daily
Is it possible the Chinese have finally truly mastered this understanding of the exponential function? Could it be they are preparing for the next "doubling of the bacteria in the soda bottle"? Are the ghost cities in China and elsewhere (Angola) truly follies of central planning and an overflow of excess capacity?
Or do they represent a decades-spanning plan to increase Chinese Lebensraum?
Some examples of how this is playing out across the continent (again, refer to Africa map above):
""The Chinese have changed Zambia," said Nelson Mwendabai, a retired civil servant who ticked off Chinese-backed projects: a railway between Tanzania and Zambia, new roads, schools, clinics and stadiums. Mwendabai said: "We should just accept that they are our friends."

Zambian President Michael Sata criticized the Chinese presence as an opposition leader, seeking to harness nationalist unhappiness with Chinese accused of taking jobs from Zambians by engaging in low-pay jobs such as pushing wheelbarrows at construction sites. He changed his tune after his Patriotic Front party won elections in 2011. In April, Sata went to China on an 11-day state visit, soon after new Chinese ruler Xi Jinping took office.

"I have come to say 'thank you' for the work the Chinese are doing in Zambia," Sata told Xi." – ABC News
See, campaign contributions and "other contributions" are a very strategic and lucrative investment everywhere in the world…
"Tanzania has signed contracts worth $1.7 billion with Chinese companies to construct power plants and housing units in east Africa's second-largest economy. […]Tanzania signed a framework agreement in May with China Merchants Holdings (International) Co Ltd for the construction of a new port, special economic zone and railway network that could involve more than $10 billion.

China, which built a railway linking Tanzania and Zambia in the 1960s and 1970s, is also financing a $1.2 billion 532-km (330-mile) natural gas pipeline from the south east of the country to the commercial capital Dar es Salaam.

In 2011 China's Sichuan Hongda Co. Ltd signed a $3 billion deal with Tanzania to mine coal and iron ore.

Chinese companies are also eyeing Tanzania's natural gas reserves and are expected to bid for oil and gas blocks in the country, according to the African country's energy ministry." -- Reuters
It has come to a point where Chinese gold prospectors are swarming African goldfields in a 19th- century-like gold rush:
"Ghana has been inundated with migrant gold miners in recent years and the vast majority — an estimated 50,000 — are Chinese from Shanglin county. The Chinese miners claim they were operating in legal partnership with local Ghanaian landowners (although many admit to not having valid documentation). Hundreds of miners, including Yang, were rounded up and deported a couple of weeks ago." -- TIME
There is a reasonably well-rounded landscape report from the Economist here – while dated, it contains a nice quote from W.H. Auden (no, I had no idea who that was, either*):
"I'll love you, dear, I'll love you

Till China and Africa meet,

And the river jumps over the mountain

And the salmon sing in the street."
Apparently, hell has frozen over and W.H. Auden has now left his paramour. * - https://en.m.wikipedia.org/wiki/W._H._Auden
In an interview on Bullionvault, Matt Badiali of Stansberry & Associates gives the following, in my opinion very astute, summary of China's approach:
"We have been watching China's investments in Africa for a while now. China is spending billions of Dollars in Africa in very specific ways: financing power plants, building railroads and developing other infrastructure plays.

Why? If you want to build a mine, you need electric power. You need to be able to get ore from the mine to a port. China is laying the groundwork for mine development all over Africa.

Look also at what China is buying: one of the world's largest undeveloped uranium deposits, bullion and shares in African gold miners, from major mining companies to partnerships with juniors and exploration projects.

At the Mines and Money Conference in Hong Kong, I asked representatives of major Chinese investment banks and funds if gold is a major target for Chinese investment in Africa. Across the board, they all said yes."
It's not JUST gold, you understand – from building solar plants in Chile, to becoming the primary trade partner of seemingly all resource-rich countries developing/developed alike, China has been busily weaving its web. The game afoot is on larger scale and for larger stakes than most people seem to realize:
"an estimated 259,000 Chinese nationals in Angola are mainly construction workers helping to rebuild the country after a devastating 27-year civil war that ruined much of its infrastructure" – Ghanaweb (also an interesting, longer article on Chinese involvement in Ghana)
When an economy can just point, and send nearly 300K workers to the middle of Africa in the space of a few years, one has to wonder a bit as to whether their planning and execution is really as flawed as Western analysts are often prone to thinking. The millions of empty apartments/offices built in the ghost cities COULD be an example of the irrational excesses of central planning gone wrong. But even if they WERE, they could now become outposts, forts on hills, trading posts in native country. Inside China, they could be meant to support the continued migration of rural workers to the cities (or massive in-migration of population from elsewhere?), in places like Angola they can serve as stakes in the ground. A more optimistic viewpoint might be the expectation of the Chinese planners that in the future, raw materials and resources will become significantly more valuable, creating the jobs and thus income necessary for large masses of people to move to such environments. And if you have 300K citizens in another country, are you not then bound to ensure the safety and security of that expatriate community, at some point – with all the options available to a nascent global power?
While building a megapolis in the middle of Inner Mongolia (think Nevada, only the desert is much bigger) might seem eccentric, look at these pictures and tell me this was done as a budget-consuming, megalomaniacal, insane scheme of a few local party officials desperate to generate tangible growth, no matter the irrationality (courtesy of TIME photographer Michael C. Brown, see link above):
As another photo essay (regrettably of lower resolution, but more extensive in pictures) on ghost cities notes:
"China wants to move more than 400 million people from the countryside to the city in the next 10 years. […] "social engineering on the grandest of scales." " – Business Insider
So, what's the take-away here? That "the Chinese are coming" is something everyone should have realized by now – their speed and impact is what is in question. My view is that insofar as they are able to pull off a social transformation and internal development akin to what has already been demonstrated several times (with tragic side-effects, alas) in the history of central planning from Lenin onward, they are in fact positioning themselves to be able to vault to a position of true global leadership in a relatively rapid timeframe. Whether or not they are waiting for (or waiting to initiate) any global monetary reset, it could be argued that they are certainly PREPARING FOR it. While we all (should) know the officially maintained figure of ~1000 ton gold reserve on record for China is bogus, how much really IS in China proper, or in 'deep storage' (aka minable deposits) under direct or indirect Chinese control today? With production in China itself making up 14.4% of the global supply in 2012, what is the true figure today – and what is it when including the amounts shipped back from territories further afield?
I didn't have a chance to fully get the answers to all of these questions, but I'm hoping there are some among you who can round out the tale. But I would say, we will be getting used to images like these -- not just in Africa (note the differential color-coding of hardhats [workers] vs. [foreman/engineer/manager]...):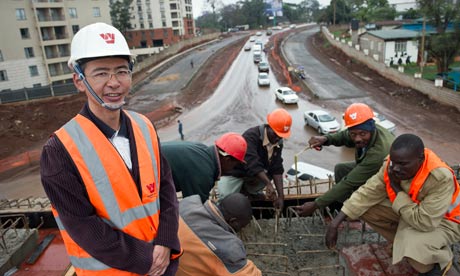 I have been left with the impression that, given the opportunity and the right set of conditions (which the Chinese leadership seems very diligent in working to bring about), this setup will allow China to turn on afterburners and switch its (now more distributed) economy to even higher gear at a 'moment's notice' (relatively speaking). And of course, that there seems to be zero confusion on the part of China and her people (as a whole) on what represents wealth and real money.
As always, keep stacking.
Appendix:
Eye-candy on the above topics:
Infographic on Global Gold Mines and Deposits Ranking 2012 from Visual Capitalist

Infographic on the evolution of modern Chinese relationship with gold (ZH blurb here, original from The Real Asset Co. here)

Some older maps:

- Chinese oil and mineral rights in Africa, ca. 2008 (click here for article & larger map)

- Hydroelectric projects in Africa, ca. 2010 (click here for full-size image)
Extensive report on Chinese hydroelectric projects worldwide, from International Rivers (Oct., 2012)
Logistics project of the century the Nicaragua Canal:

More details/background here: "Nicaragua has awarded a Chinese company a 100-year concession to build an alternative to the Panama Canal, in a step that looks set to have profound geopolitical ramifications." -- The Guardian, June 2013
Some resources for silver (forgive the Silver Institute links – sometimes the gatekeepers can have useful data):
Global silver supply/demand tables

World Silver Survey 2013: A Summary produced for The Silver Institute by Thomson Reuters GFMS

The Chinese Silver Market (produced for The Silver Institute by Thomson Reuters GFMS)
In searching for illustrations for this post, I started out by looking for images from Looper (worth a look if you are a fan of time-travel sci-fi and/or are a diehard Bruce Willis fan -- hitmen in the future get paid with silver & gold bars from an even more distant future. Talk about pulling future wealth/demand into the present...). It turned out I couldn't find one of the protagonist's floor safe filled with silver bars so these will have to do:
However, I stumbled upon something much better – a short film from our very own fellow Turdite and resident YouTube star -- Beinki (watch the trailer linked above, if you have not heard of the movie):
https://www.youtube.com/watch?v=31ymYWZ1Yq4[width=640,height=320]
(Beinki, you totally forgot to drop the package into the incinerator… Tsk, tsk, tsk. Getting sloppy there, champ.)