Here is a recent interview with Alan Greenspan: (you only need to hear up to 1:21)
https://www.youtube.com/watch?feature=player_embedded&v=m6b4qX_qm40
First Mr Greenspan said there was no bubble, but now he is selling his book he says he just "didn't get it". However, he did get Brooksley Born, who saw problems, fired. I advise readers to never forget that the qualifications which got this guy into his job are the same qualifications being used for selection of his successors.
The case for physical metal investing at the moment relies upon the thesis that there is a financial bubble which when it ends will present those in charge with two choices.
Deflate the bubble: They can allow prices to fall to levels which are appropriate to a market in which credit is hard to get. (And the price of houses without mortgages is a lot lower than what it is when loans are available to their unfortunate buyers.) This option favours those on fixed incomes as prices fall and their purchasing power increases. But it's not so pleasant for those who borrowed and leveraged up to buy assets, businesses, stocks, etc. You know .... those in charge.
Inflate the bubble: They can inflate the currency, increasing money supply until the debts are reduced in real terms, and those with anything left can pay their debts off. For "anything left" please consider the phrase "income producing assets" as the prime choice of those in charge. This option screws those on fixed or negotiated incomes which will remain lower than the new higher prices applying to everything worthwhile in life, like food, etc.
Both the above. (Stagflation): They can do a mix of the above two options. See Ray Dalio's "A Beautiful Deleveraging" and similar papers. This involves inflating the money supply, but restricting availability of that money so the consuming masses cant access it. This keeps the good stuff within the upper classes which I am sure many of them appreciate gladly. BUT a concession is also made to let a certain of the goodness leak out into "the economy" (like there are not several separately managed economies comprising the economy). This leakage will be used to finance the loans and credit of the next suckers, ooops consumers .... who want to buy a house off somebody like Blackrock, JPM, Citibank or their fellows who happen to presently have a rather large inventory of same, which they acquired for peanuts. Option 3 has the advantage that it moves cash into the wealth funds and banks, and moves debt where it belongs - onto the backs of the little folks.
We know well who the decision makers are, and which part of society they support, and so we can infer the motivation of those in charge. This requires we apply a total disregard for all announced policy statements and press releases, and we focus on who and what they are instead.
~~~~~~~~~~~~~~~~~~~
Changing the subject slightly just for a moment, the investor has always had to make a choice to do his job well. The trick is to buy value, and also to sell overvaluation. It is necessary to either have deep pockets to withstand adverse market moves before the investment comes good, or to have stops to exit the position with the plan of re-entering for a second or third or more attempt to get it right.
So no matter what the investment vehicle we always come up against this decision:
Is this a periodic swing? If so, and it is caused by cyclical forces, then it will abate after a while. So it should be traded for a counter swing as it moves back to the mean, or middle of it's trading channel/range.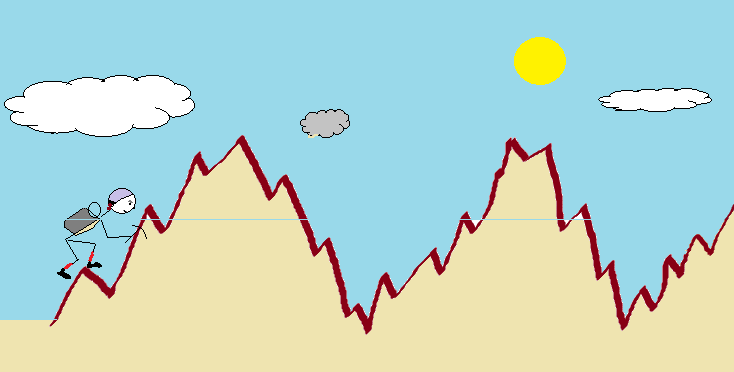 Is this a secular up trend? If so, the new high will be followed not by a swing back, but instead by a new move to an even higher high, the correct thing is to stand back, or enter for a continuation of trend.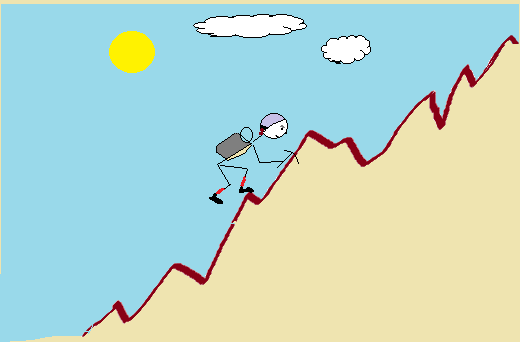 Is this a bubble? If it is, it has no real economic underlying support, just a perceived support. It may behave as a secular trend, but after some point the emperor will be revealed as having no clothes, and the bubble bursts, and price will collapse suddenly.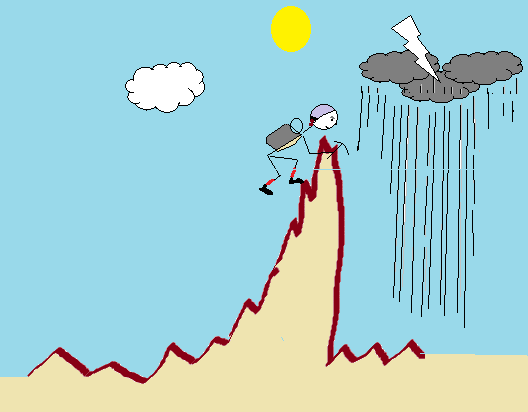 Is this a secular down trend? If so, the new high will be followed by a fall, and then by a new rally which will fail to make a higher high, and keep on declining while every so often mounting one more suck-in-the-bulls rally which fails and so on. The correct thing is to stand back, or short this downwards trend.
Oh it all seems so simple when written down, doesn't it? If only real life in the markets were anything like so easy! But it isn't.
The reality is we can never tell for sure what scale either of the last swing was, or the present swing is. Is this a swing within a swing which larger swing is going in the other direction? Or is a swing within a swing within a swing and all is opposite? We will always have a problem of making good judgment calls with regard to perspective and scale in our decisions.
If we look for information there is a plethora of conflicting information available to us which may be used to build a case for any of the 4 basic scenarios outlined above. Indeed, our internal bias will actually make us more open and accepting of the information which conforms to out bias, and we enter into an imaginary world where the facts seem to confirm and strengthen our incorrect beliefs!
....and .... that's all before making allowances for the false information and misinformation spewed out in vast quantity from our investment colleagues on the other side!
So when your problem is a limitation of good information you have two choices: you can play the probabilities based upon the information you have, using stops to cut the bad ones off and give room for multiple attempts.
Or .... you could look at the motivation of your colleagues and infer what they will do in the circumstances. Then you add this extra item of information to your existing information base, and make a decision based on the two resources together.
Taking this principle to the precious metal markets in particular I usually ask myself "What are the other guys doing?"
It bothers me that there is public evidence and news of Central Bank buying of gold. This bothers me a lot, because I would expect the CBs to make that announcement on the day that they end their buying!
There is a possibility that the CBs have decided to go for brand new digital fiat fictional money, and they will have a toll, a gatekeeper to take my money when I wish to convert from PM back to the currency of the day/place I happen to be. I take comfort from the likelihood that other people will always want to avoid the same new currency, and will be happy to deal with me if and when that time comes.
I do not like to see that some people say that precious metals will lose their monetary value, and then decline to their industrial, and lower value. This would hurt me. But I look at those individuals and their past history of success. They seem to a large extent to be the ones who never saw the sh!7fest coming and even cheered on the the organizers. Hi Mr Greenspan, Krugman, et al! The track record of these people tells me they serve other masters than the brochure says. I want to see what their masters do. Lets see, those entities are selling property bought at the lows right now, and going into the captive lower class property rental market, like trailer parks. They may be quietly buying stocks in certain EU countries which are already "pre-declined" based on what my charts show. That counts as inflation protective assets in my book.
I want to consider the overvaluation and undervaluation of the various markets from a possibility of a prospective exponential move up or down. We hear talk about bubbles ready to pop. If any market is in a bubble, there should be herding behaviour visible when one looks for it. Ahem, can anyone connect Bernanke and low interest rates, and mention US stocks in the same sentence? This has been Bernanke's stated policy - to lower returns on bonds and herd investors into stocks! So that's a bubble. Bonds first, US stocks second, spillover from those into related global markets third. Anyone want to buy some JGBs? It might be ready to pop or it may still take more time.
Another problem that bothers me is the lack of growth globally. This is a big worry. If there is no growth where will the money come from to raise the price of the inflation (stagflation) assets? I hope the uber-wealthy have enough to make up the difference if the working class has been gutted. Oh wait! The top 0.1% has three quarters of everything. I guess that's covered, so long as I buy what they want and make it so they can't steal it from me with their laws and all!
So these are some of the things which bother me, and I wonder if I am weighing them up correctly with an appropriate amount of due importance allocated to each. I'm glad I use charts as the prime source of information.
There is one other little thing.
The financial risks. Lets add those up. Sovereign risk. Derivative risk. Risk of nationalization, and punitive taxation. Bank risk. Fraud risk. Risk from accounting standards which are to put it kindly unconventional or when viewed under the law applied to everyone else overtly fraudulent. And risk in corporations which have borrowed up to their eyeballs to buy back stocks which are themselves at highs caused by money printing by the central banks. Risks like that will support gold while they are a source of worry.
I think that can be summed up as debt and hidden debt, and unwillingness to apply the laws of the land to those entities with the debts. It is likely that those parties are the colleagues I need to pay attention to most of all.
So their debt will govern policy. What did Bernanke say "the Fed policy will assume a reactive nature". Yes. They will react to events in that case. Yellen will do the same too. Events are in control. Which is to say of course - if it is rephrased differently - that things are out of control!
The debt is therefore now running policy. This simplifies the possible future choices somewhat.
De facto policy is therefore:
default and inflation and deflation (stagflation) against the weak,
inflation against the more powerful,
appeasement & accommodation with the very powerful who have standing armies and can cause trouble of the life threatening sort to those-in-charge; which might include allowing and helping those entities to acquire their inflation hedge at good prices
denial of all the above amid a huge cloud of misinformation
Argentus Maximus
.
The author posts daily commentary on the gold and silver markets in the TFMR forum: The Setup For The Big Trade. More information about the author can be found here: RhythmNPrice.