My forefathers (and mothers) had looked very long and very hard for a suitable bug-out location in which to settle. Seriously long, like centuries. As a group, they traversed many thousands of miles, sampling various regions and peoples, climates and topographies. Along the way, as adept preppers, they took what was useful, learned new skills, picked up languages and technologies, and premium-quality genetic stock – flora, fauna and human. Eventually, legends say while pursuing a magnificent stag, they happened upon the ideal place. Protected by a cradle of nigh-impassable mountains on the east, filled with the fertile soils of surrounding areas deposited by the watershed of one of the largest rivers on the continent, (relatively) sparsely populated and remote (enough) from major military powers – yet close enough to them for commerce or quick plunder, should opportunity arise.
As it turned out, the choice of location created an historic opportunity, but as centuries rolled on generated a large risk as well. Sitting on the faultlines between the largest empires of every age to follow is not very good for your home insurance rates in the long run. I'll spare you the long (though interesting) details, suffice it to say it's been occupied mostly continuously by foreign powers since before Cristoforo sailed off toward the sunset flying the Spanish flag. Insurrections, secessions, revolutions, peasant revolts, guerilla engagements and a few full-blown wars of independence occurred with regularity, too many to list. We've come to learn a few things about TPTB, and resistance thereto over the years – as the preceding sentences indicate, mainly through one of the better teachers: failure. Punctuated by increased repression and sometimes massacre.
1849 was another bad year. Despite a hopeful, idealistic and well-timed (arriving at just the right moment, riding the wave of European uprisings, protests and general continental revolutionary atmosphere) social protest movement that broke to the surface a year prior, things looked grim indeed. What was first a peaceful set of demonstrations demanding human, civil and political rights had escalated into prison breaks (of political dissidents), demands of constitutional reform by legislature, then secession and popular uprising and war for independence. Eventually even including a hyperinflating wartime fiat-currency (not the only one, alas...), the saga seemed destined to end with one of these moments: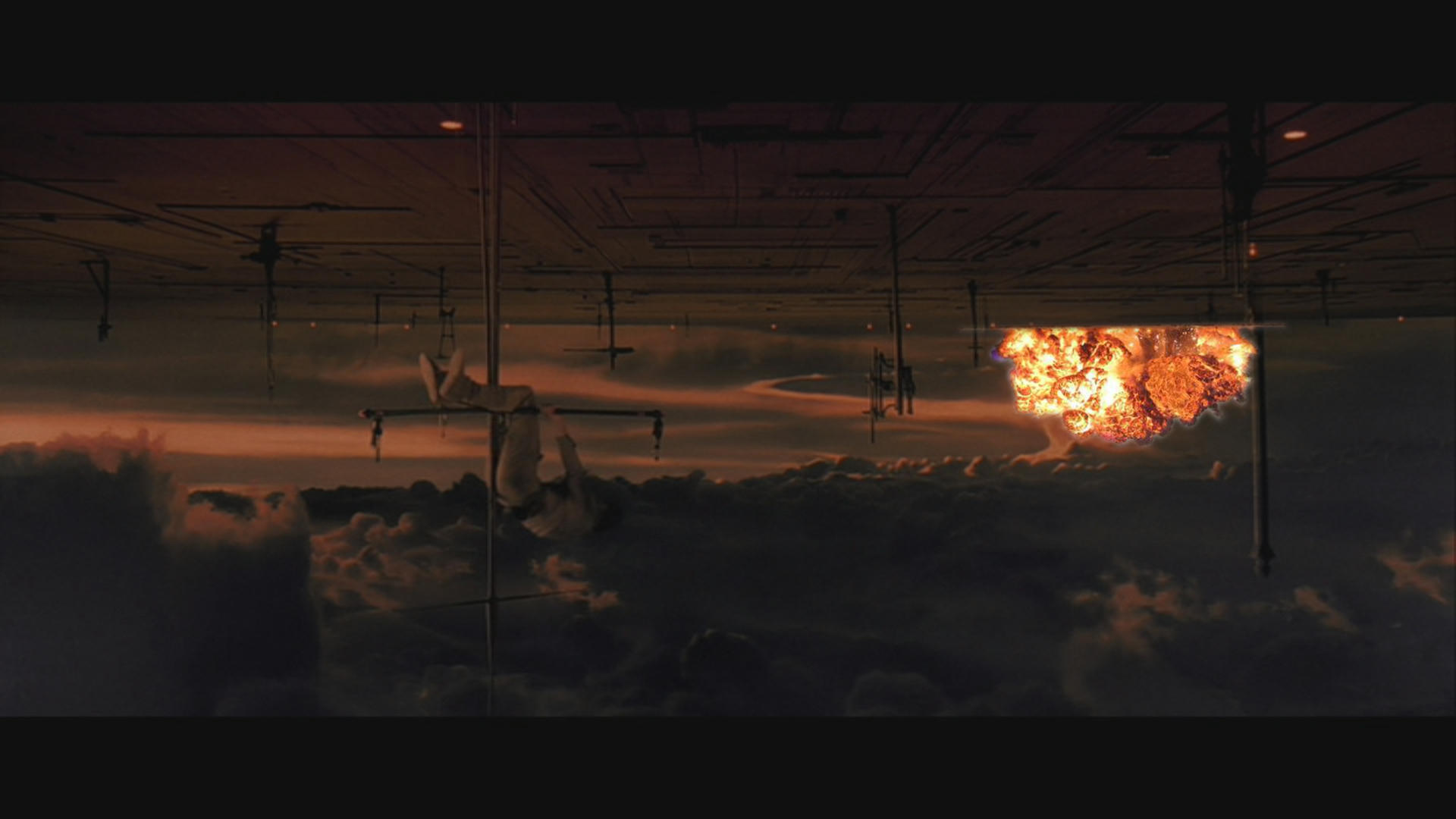 The fireball you see off to the side is the exploding Millenium Falcon...
Not one, but TWO imperial armies occupied the country. The elected president managed to flee to exile (eventually to take to the lecture circuit in the US to try to raise political support and funding for continuing the struggle – there's a bust in the Capitol's pantheon, if I remember correctly). In the face of overwhelming force, ostensibly to spare the lives of his soldiers, the commander surrendered and laid down arms. Six weeks later, the elected prime minister and select generals were summarily executed by a firing squad. The other top captured officers of the volunteer army were strangled at the stake.
EVERYONE with the wrong first or last name was considered an insurgent, and full military dictatorship and martial law was put in place. All constitutional amendments (representative government, speech/press/expression, assembly, etc.) except the right of citizenship and the liberation of serfs were rolled back. Taxes, dontcha know… Thousands jailed, hundreds executed by both rope and rifle/bayonet.
What came next was a set of responses by the populace whose success is judged differently depending on the perspective of the viewer. Ostensibly led by an elder statesman (former Justice Minister under the revolutionary government), the middle class began to withdraw – to the extent possible – from participating in the social structure of the occupying empire. Magistrates resigned and declined postings. Judicial seats, local governance offices, tax collector posts went empty. People stopped paying taxes, regulations went ignored and unenforced by local authorities. Non-local goods gathered dust on shelves. State monopolies and tariffs were disregarded by local artisans, factories and merchants, veterans of the former army were given refuge and sustenance. Support of cultural, literary and academic life was increased to the point of trying to exclude any share of the occupying culture, language and tradition. Contracts with non-local owned firms were curtailed. GDP and imperial tax revenues declined.
This decades-long, slow-burn resistance is considered by many (most) scholars and commentators to have ultimately led to the occupying empire being forced in to a compromise/stalemate – the adoption of a quasi-autonomous status for the conquered and broken country, participation on 'nearly-equal' footing in the affairs of the resulting 'empire'. The ruler was backed into a corner due to military defeat abroad, and the wily, rotund and mustached old man who epitomized the resistance (despite never being explicitly named a leader in any formal, organized or announced way), was able to negotiate terms that he finally could live with. Gandhi would eventually cite the movement as an example on effective non-cooperation and resistance, and it seems to have inspired similar policies in Sinn Fein at its founding in the early 1900's.
There are some nuances that bear examination with the version taught in school textbooks, however. While such passive resistance certainly eroded the credibility, efficiency and revenue base of the occupying power, regimes can stay in place for a LONG time after having lost credibility (if they ever had one). If something takes 18 years to bear fruit, perhaps other factors contributed to the outcome as well – the military adventurism (and defeats) of the empire, as well as the larger regional and global geopolitical arena arguably had at least as much of a role. The other obvious factor is that while a noble effort, withdrawal from public life/service was the exclusive domain of those with sufficient wealth to forego a salary – policemen, bureaucrats and low-level officials could scarcely afford to simply walk off the job. Think sprinkling sand and a few handfuls of gravel into the workings of the machinery – not a wrench or a spanner. There were also a number of attempted armed uprisings, the largest being a multi-national conspiracy to retake the country starting in the most independence-minded east – all of which were put down either through military force, or (more ominously) through the extremely effective work of the Imperial Secret Police. Despite the ultimate failure of each of these instances (and the retributions that followed), these events kept the empire on edge, and ironically with their failure kept alive the population's determination to continue fighting assimilation and subjugation.
___________________________________________________________________________________

The parallels to the current world might seem a bit tenuous – though of course this too depends on the viewer. Military adventurism and insolvency seem not to have gone out of fashion over the centuries... From a Western perspective, however, there is no uniformed army barking commands at everyday people in a harsh, foreign, consonant-rich, reviled language. People are not being rounded up to be shot or marched to forced labor camps. There isn't a set of laws aimed at dismantling the English language as the official tongue of the land, no movement to try to destroy and make forgotten the cultural, historical, literary and even musical traditions of the country. The FedGov apparatus is duly elected by and accountable to the population it serves – there is no cronyism, favoritism, nepotism, corruption. Governance is conducted in a constitutional, orderly manner – there can be no critique of absolutism leveled at the leadership, let alone alleging that there is selective enforcement of laws. Right…?
The problem? There is no singular, clearly identifiable, compact adversary to focus on and direct energy toward. The Matrix surrounds us from the day we are born, increasingly few remember it ever being any other way (depending on where one puts the founding date). The other main difference is the lack of a unifying, singular goal. The causes of this are many – lack of awareness of reality could be considered one, a dependence on and existential incentives to support the current system being another. But critically, one must ask: what is the desired GOAL, should a substantial portion of the population ever agree on the need to act? What should be the aim striven for, and how best to get there once/if the constraints imposed by the current regime should be lifted? The restoration of a constitutional republic? A dismantling of the massive, complex and all-reaching infrastructure of the state? The demolition of the power interests and exploitative commercial/financial/industrial complexes – the ever-present financial/military/industrial complex Eisenhower warned us about? Decommissioning of the global fiat currency regime? In order for any movement to succeed, the above questions must be addressed. What I doubt is that any 'collapse' (however defined) of the current system, including currency, would automatically bring any kind of benefits or freedoms for the populace in and of itself. If anything, the opposite should be considered.
For the moment, there is no 'movement', and it is unclear whether one ever will or could be. Even if OWS, their Fawkesian online friends, WikiL and my one-time tail-gunner Snowden are completely legit, we are WAY below threshold. But even if there ever were, as a first step, the stranglehold of the current power structure must be at a minimum loosened. Some modern-day passive resistance options (many/most cited on this forum) that may be considered analogous to the efforts of those far-away patriots from long ago. Please feel free to add more, or shoot down factually incorrect ones:
Minimizing payment of taxes, levies, tariffs and other governmental fees

While most if not all people already instinctively TRY to do this, there are multiple levels available. Family trusts, offshore LLCs, non-profit and/or charitable organizations, political action committees (provided no ill-advised keywords are in their names or founding documents).
Using cash, local currencies and barter
Withdrawing consent from marketing

Minimizing payment card usage plays a large role in this
Store loyalty cards – you know you have one, if not five. If you cannot forego the savings offered by their use, ask for a new one at the register, have the cashier activate it, then never fill out the personal data form (or at least do it 'incorrectly')
Whole host of ad-blocking software is available for all browser-enabled devices – use it
Do you still watch TV? Need I say more?
Reduce reliance on credit, FRNs and the banking system

See point above about using cash, local currencies and barter
Self-production of household necessities and foodstuffs
Repair and reuse durable goods/equipment rather than replacing
Prepping in general (for anybody to whom more needs be said about this, check out the forums here)

Related to the above, but specifically securing control of monetary alternatives and other minerals. While all ACTUAL assets are fair game to varying extends (H and elemental Li are a pain in the neck to store, as are those toward the end of the table), the specific ones generally recommended are Au, Ag, Pt, Pd – complemented by both less and more malleable counterparts Cu and Pb.
Get Out of The System (listen to / read Jim Sinclair's thoughts on the subject)

Reducing collateral held by the banking/financial oligarchy is not only prudent, but a non-trivial, leveraged move against them as well. Brokerage accounts, pension funds of all kinds provide leveragable and rehypotheticatable ammunition for the institutions holding them.
Ditto for cash deposits in accounts – for the same reasons. Read up about the details of WHO OWNS the funds deposited in a bank account. They are the assets of the bank, which owes an unsecured liability to the account holder. What are the odds an average customer would be able to seek legal redress regarding disposition of funds should he and the bank come to a disagreement?
"The Deposit Insurance Fund (DIF) balance continued to increase. The DIF balance — the net worth of the fund — rose to $37.9 billion as of June 30 from $35.7 billion as of March 31." - FDIC This implies total insured deposits at $6T and change. I'm not sure I like them odds, as these deposits are distributed mainly between our wonderful friends who are TBTJ.
Encrypt whatever you can. Invest in whatever modicum of internet security and anonymity you feel appropriate – not just to avoid detection and protect privacy, but also to raise the marginal cost of the surveillance system's operation as a whole. Encrypt trivial, everyday data whenever and however possible (before non-approved encryption is outlawed).
Offer to teach a self-defense class (with or without augmenting implements, though ideally at least the latter) to your local church community, PTA or bowling club.
Ditto for canning/ciderpressing/harvest/beermaking/cooking/gardening/etc. class at a venue convenient for you and appropriate for the purpose.
Professional self-help organizations aimed at bartering services. 1 hour of lawyer fees for a medical visit, replacing a lock or a day of babysitting.
Exposing the truth and ridiculing the ruling elite. Leaking anything and everything possible, until the deluge is impossible to effectively corral. Whether evidence of massive corruption and theft or simply random, embarrassing details of the criminals in question.
What would happen if a congressional district organized and decided to NOT send a representative to Congress come next election? Could such a thing legally be done? If so, would anyone notice? Same question on state government level.
In case it is not obvious from the above, I do not consider ACTIVE resistance to be a viable option at this particular point in time, especially in the US. There appears to be no viable legal path through electoral, legislative, judicial or 'public pressure' means to reform, cleanse and fix the system – let alone address the global imperial entanglements and co-dependent structures. As for the other option --there is simply not nearly enough desperation, anguish, pain and suffering to compel sufficient numbers of the population to support one. Yet. We're not even at the point of mass demonstrations in the US and NW EU, and similar efforts have not yielded appreciable change in Southern Europe. When and if such time should come, one's perspective will and should change. It certainly seems to be getting closer to changing in a few other parts of the world – but the ones that have taken place thus far have not resulted in the desired and deserved result of true self-determination. The distance between A (realization of grievances, major protestations thereof) and B (actions that might seek to directly and fundamentally alter the status quo by EITHER ruler or oppressed) is a very tricky one, and can take anywhere from a few weeks/months to years to decades to forever (so far).
But the way I look at it, the notes above apply either way. It most certainly is prudent to prepare accordingly.
Muse - Uprising [Official Video]
"Paranoia is in bloom,
The PR, transmissions will resume
They'll try to, push drugs that keep us all dumbed down
And hope that, we will never see the truth around
(So come on)" -- Muse, 2009
UPDATE:
There are some current ideas afoot that address exactly the areas above. If you have not already, please take a moment to look at the petition demanding the resignation of every metal investor's friend Bart Chilton. The other, more tangible effort is the Turdite Silver Thursday on All Hallow's Eve -- buy a few ounces with friends.
WRT to the Chilton affair, I am more curious as to whether an FOIA request can be filed, for how much, and how long would it take. The thousands of hours of Commission investigative time must have yielded petabytes of information -- the Commission is a public agency serving the well-being of the public -- let's see the investigation logs, reports, emails, evidence. Am I the only one surprised that no one is publicly demanding this?