"All Gods Are homemade, and it is we who pull their strings, and so, give them the power to pull ours."
Aldous Huxley
Dedication of the George W Bush Library. The presidential library is a government run, privately funded system that harkens back to the days of Rome when infrastructure and buildings were consecrated to bolster the image of the Gods who ran the empire.
 This article is the 3rd installment on my series of articles related to Power. A quick recap....
My first article "Power" focused on the work of Adolph Berle, an ultimate insider during the FDR administration, who concluded based on numerous historical references that Power ultimately loses control whether it be economic, political or institutional power such as the corporation. Institutions, government or private, are necessary for a power holder to channel his power. 
Next we looked at Maybury's two laws based of the work of Richard Maybury. 
Do all you have agreed to do
Do not encroach on other persons or their property.
These two laws are the basis of all contract and criminal law. Maybury observed that countries that obey these two laws experience periods of relative peace, liberty and prosperity. Countries that do not follow these two laws and follow the Roman Model, do what whatever is necessary, at all costs, create a condition which he has coined  "chaostan"
Now we will look at a few ways in which power is often achieved through the use of clever propaganda and instilling fear into the populous and the use of Pseudo-Events
The word pseudo-events was coined by the author Daniel Boorstein in his seminal publication "The Image, A Guide to Pseudo-events in America" published in 1961.
Boorstein asserts that history is manufactured, specifically the image of power holders. Napoleon was a brilliant propagandist who would send reports of heroic victories back to the media of his day. These reports exaggerated the victory and created a larger than life figure. Napolean produced medallions with with his image to promote himself. Napoleon like so many kings and emperors used propaganda and often superstition to recreate themselves as immortal God's.
Franklin D. Roosevelt hid the fact that he was in a wheel chair and paralyzed from the waist down in order to portray the image of strength and not that of an invalid. He went to great lengths to deceive the public. In New York City's Grand Central station there was a secret track in which FDR's train car would pull into to get access to the elevator of the Waldorf Astoria so he would not be seen in his wheel chair.
Power holders realize that the need for authority is a basic psychological need in the human species. Anybody that understands the basic principles of depth psychology is able to use those principles to their favor to win the hearts and minds of a gullible public through deception. Advertisers understand how to create a desire in an individual through the use of pictures to tap into basic human needs. Power holders understand that the stress of everyday life and uncertainty foster the need for authority. 
When man has no other way to understand events, he will seek out an authority figure to provide answers unable to work out decisions for himself. This is a very basic tenet of Depth psychology. Power holders and news media understand this basic premise and through clever use of postulates and images are able to take advantage of this basic human need. Postulates are nothing more than beliefs or statements.
"Gold will go to $5000.00" is a postulate. Campaign slogans are postulates. Repeat a postulate enough times the mind accepts these postulates as true whether or not there is any good reasoning to support them. A good postulate will seek an emotional response from the recipient. I've recognized there are two kinds of investors, one's who premises are based off of postulates they accept from others, and those who have a working model of markets.
One of the ways kings and emperors created the image of authority was by consecrating and naming buildings, edifices, streets after themselves and engraving their names and images on the coin of the realm along with symbols that represented power. The tradition of putting the face of a politician on a coin was part of the Greco-Roman tradition.
SYMBOLS AND POWER
Another way in which government will seek to impress the minds of a gullible public is through the influence of symbols. Symbols are powerful archetypical expressions of human nature which occur in all cultures at all times. They are found in Paleolithic caves and are part of the collective consciousness of civilization and are powerful emotional triggers. While the written and spoken word are what man uses for everyday communication, words get misinterpreted where as symbols are explicit representations of reality, concepts, objects, actions of the world. Symbols also can penetrate deeply within the psyche of man to express a deep wisdom, or they can be corrupted and used to exercise authority. A flag is a symbol that instills feelings of patriotism. We will take a closer look how Roman and Greek used symbols to support their quest for power and authority. 
 In late August, I was enjoying a swim on at a local beach, when a large man made a rough and tumble entrance into the water. It was one of those show boat entrances that has no consideration for the water temperature or those around him. He finally comes up for air, and I see a tattoo scrawled across his belly-F_- & The Government. He then turns around to face the shoreline and on his back is a life size double-headed eagle. 
The double headed eagle was a symbol used during both the Byzantine and Holy Roman empire and has been used as a power symbol in other fascist societies. It represents the will of the power holder to do whatever is necessary without limits. The King or the Emperor receives his power directly from God and he is answerable to nobody. While I have complimented individuals on their tattoos', this was one gentleman I was not going to make small talk with. On one hand the tattoo with the double headed eagle embraced the principle of power and tyranny, at the same time his slogan indicated to me that he likely had no fear of authority and only embraced the same model of the Holy Roman Empire. 
Divine Rights of Kings is synonymous with the history of royalty. Franz Oppenheimer in his work "The State" wrote about the origin of the state and that it historically proved to be "a foundational attack on the structure of modern society. " He writes "Everywhere, we find some warlike tribe of wild men breaking through the boundaries of some less warlike people, settling down as nobility and founding its state" He aptly describes the Roman model of government that reflects America's current imperial model.
 All the castles you see in Europe and all over England on when you are walking around with your little camera's are remnants of the Roman empire. After the break up of the Roman, Europe descended into Feudalism. Nothing more than gangs of roving thugs that would attack and overrun one of the Roman plantations. The gang would turn the workers into slaves or serfs and then force the serfs to build them castles. The thieves would then set up a government from within the castle and collect taxes from the serfs within their kingdom. This is the history of what we know as Royalty today. All the glamor, and wealth society associates with royalty was won through violence and conquest.
The last US election is another perfect example of the Roman model of government. Two candidates fighting over how Central government should run your life. And then there was Ron Paul, the libertarian candidate, whose campaign was based on how we should reduce the meddling of central government in people's lives. To most of the American public this notion is just absurd.
Most American's have been taught that Government is God and that their security is depended on government being involved in every area of your like - In loco parentis 
It's the same old story of power vs liberty. Governments meddling in citizens everyday lives and the affairs of other countries eventually leads to to taxes, financial repression, war, business and personal financial failures and usually done through inflation. 

Alexander the Great was one of the first individuals to understand the power of symbols engraved upon coinage to foster his image. This is the first coin Alexander the Great coin. On the front he is wearing a Corinthian helmet and on the obverse side a picture of Nike, the Goddess of Victory, wearing a laurel wreath. Symbols of God's and Goddess' as well as the invocation of plants were power symbols known to all the citizenry during the Greco-Roman period. The Nazi's also understood the potent effect of symbols and adopted many of the symbols of the Holy Roman Empire. The Nazi symbol is a power symbol which was an inverted symbol of the Thor's Hammer, Norse Lightening God. It also was a symbol used who yielded a powerful hammer.
The Greek and Roman God's and Goddess's were more than fictional characters created by writers with vivid imaginations. They represented forces in nature. Zeus, the God of war, was the father of all the Gods, and Hera the mother Goddess and down the hierarchical chain of Gods and Goddesses Apollo, Aphrodite, and Athena. These Gods were based on a system of nature worship.
The idea is that man can use these forces in nature and direct them for their achievements. Just as many indigenous cultures today still do sun and rain dance and call on these forces or God's. They also believed that animals and plants and tree's were powerful totems which you could invoke the powers of their spirits. We see these same Gods used in Nordic, Rome, Egyptian, and Assyrian traditions In all these cultures, they were called upon for self protection or create havoc for their enemy. 
Roman power holders put together a doctrine that says man is weak. Man is an animal, and lives at the mercy of a high power that can only be worked through a priest or a magician. If a king was able to establish this role as ruler and divine agent, he had absolute power over his kingdom.
While you might think these are quaint superstitions, this form of worship is still practiced today and it's remnants can be found on coinage around the world including the US coins. Laurel wreaths can still be found on US coinage which is associated with the Goddess Apollo and was also worn by the Roman Emperors. "The expression "resting on one's laurels" refers to someone relying entirely on long-past successes for continued fame or recognition, where to "look to one's laurels" means to be careful of losing rank to competition" However, it also was believed to protect the King from harm based on the plants superstitious qualities. 
After Alexander conquered the Persian Empire, along with the rest of Asia Minor, he created an Imperial coinage as a common currency for the new empire. The symbols were way in which he could unify the varied territories under his domain. 
Whenever he conquered a new city or nation, he immediately ordered his coinage to be struck and distributed. hand. The Alexander coin has Hercules him on the front . On the back was the supreme god, Zeus, who was the father of Hercules although some of argued that it is Alexander himself but experts say there is no convincing evidence. The image implies that Alexander is born of the Greek god Zeus and made mortal. Hercules attained divine status by accomplishing 12 great tasks on Earth known as the 12 Labors. The idea of a man becoming a god was an attractive image for Alexander. The headdress that appears on the head of is the lion skin of the lion that was killed by Hercules during his first labor.
The "Nazi Standard" copied from Greco-Roman period. The Reichsadler ("Imperial Eagle") was the heraldic eagle, derived from the Roman eagle standard, used by the Holy Roman Emperors and in modern coats of arms of Germany, including those of the German Empire, the Weimar Republic and Nazi Germany. The same design has remained in use by the Federal Republic of Germany since 1945, but under a different name, now called Bundesadler or Federal Eagle rather than imperial eagle.
A denarius dedicated to Empress Faustin the Elder, wife Anoninus Pisus and the first empress to have a permanent Seat of Power. After her death, she was consecrated as a Goddess and had deification coins as well as temples build for her.
g
Roman Fascists
The Term fascism is derived from a roman object known as a fasces. It was a bundle of sticks tied together and bound. It represented unification of people under a single government.
This unification was usually by force if necessary. An ax was added to the fascist to indicate the fate of anyone who didn't obey the government. The fascists was an ideal metaphor for the Roman political model. They believed in a strong central government which could tax, control the population and fight wars. 
A statue of Cincinnatus in Cincinnati, Ohio.
This period in Roman history is known as Pax Romana or relative peace. The peace was not a result of a government that guaranteed liberties, but due to a policy of do what you are told or get taken away. And those states that tried to declare independence were crushed. Under the Pax Romana, the Roman Empire was expanded over two million square miles including current day United Kingdom. 
The fascist also had a more superstitious use as they were incorporated in many of the Roman buildings to keep away evil spirits. Today, people still bundle together herbs and burn them in hopes of keeping their space clear of evil spirits and a bundle of sticks was used to great effect in the Blair Witch Project.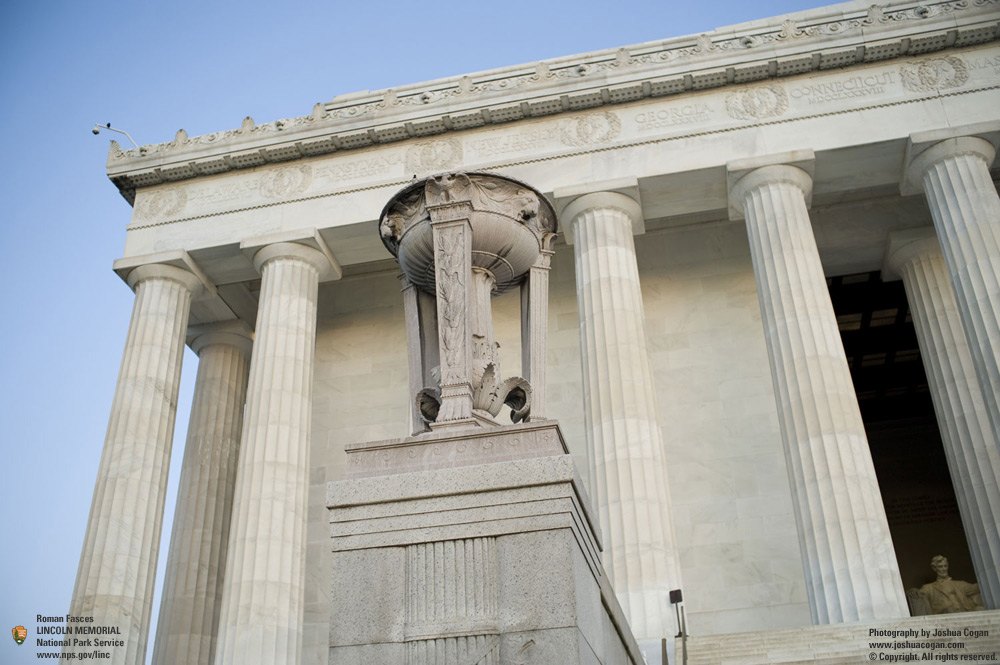 Roman Fascists at Lincoln Memorial
Mercury Dime or Roman Denarus?
The United States first began as a union founded upon common or higher law. Gradually, common law has been replaced by political law or force similar to the Roman model. This is the model that both democrats and republicans have incorporated into their platforms. Obamacare is an example of government trying to unify the population under one system that denies individuals of free market choices. Anything economic that tries to unite people under the power of central government is based on the Roman Model. 
Any geopolitical policy that seeks to unite countries under one model is part of the Roman Model. The IMF a super bank is based on the Roman model as is the United Nations which is essentially a super goverment trying to create a Pax Romana.
American Exceptionalism
 Obama's use of the phrase American exceptionalism is another throw back to a time past and men were Gods. The divine qualities gave men license to do whatever they wanted without check and balances. So when the President says that he has the right to attack another land without permission from Congress, he is invoking the Roman Model. Remember political law is the Roman Model. Nothing stops congress to pass laws to give any government official any power he do whatever he feels needs to be done. "You are either with us, or you are not" When the President says that we have a responsibility as a nation to do the right thing, where in the founding documents gives one executive the unchecked powers to commit acts of war? Again, these actions fit into the roman model.
Another reference to the Roman Empire that we find in our political system is the term "inauguation"Kings were often chosen by soothsayers or augurs. The augurs would use their magical powers to talk to the God's to select the King. When the king was chosen, he was then inaugurated and thereby given magical powers. Fear was of the primary tools of Kings. As I've mentioned in a previous article, The Golden Bough by Frazier is a historical on the superstitions that were used to keep the population in fear. Sun won't go down. etc... Is there a modern day equivalent? 
One would have to ask what is man's greatest fear? Is it not fear of lack of security and ultimately death. It was FDR that said that changed the paradigm of the pursuit of happiness from an individual pursuit to one where man could no longer do it without the aid of government. For economic forces left to their own devise would ultimately fail. Anything that man relies on government for his security is man giving away is personal sovereignty away to another. If I can convince you that your livelihood and security depend on my intervention in your life, I then control you. 
Opened in Oct. 2012, 53 million dollars of tax payer money was used to fund a park named after and dedicated to a President who single handedly made the pursuit of individual liberty and prosperity a government run program.
All Roads Lead To Rome
e
Public infrastructure was the perfect advertising venue for kings. Roads were vital Roman roads were named after the censor who had ordered their construction or reconstruction. The same person often served afterwards as consul, but the road name is dated to his term as censor. If the road was older than the office of censor or was of unknown origin, it took the name of its destination or of the region
Have the New God's Risen? 
The one constant through all the years, Ray, has been baseball. America has rolled by like an army of steamrollers. It has been erased like a blackboard, rebuilt and erased again. But baseball has marked the time. This field, this game: it's a part of our past, Ray. It reminds us of all that once was good and that could be again.
What better way to find your way into the hearts and minds of every American than to be inextricably connected yourself to the American's past-time?
From Field of Dreams to Field of Debt. Banksters own American Sports Franchises?
"Every People Have Gods To Suit Their Circumstances Henry David Thoreau