Good morning Turdville and TGIF! Time for one of those unconventional market updates, Lantern style!
Gold and Silver
We celebrated two anniversaries this week. The 12 year anniversary of 9/11 and the two year anniversary of when gold got smacked off its all time highs at $1900. Currently, Gold is not living up to it's seasonal price expectations. Gold was smacked once again, dropping to five week low on news that the Patriots beat the Jets 13-10. And Silver had it's biggest weekly drop since April on news that Hurricane Humberto was weakening over the Atlantic. Oh, you thought I was going to say something like Syria or the market anticipating an announcement of slow stimulus next week coming from the Fed? Well, yeah... right.
The man who can get inside the head of investors and banksters and tell you why something went up or something went down and be 100% accurate is lying to you. Not that there isn't any relationship, only that it is as likely that it is the wind and rain. BTW, the weather experts predicted a terrible Hurricane season. I have my fingers crossed that they continue to be wrong as we watch all these weather systems off the coast of west Africa continue to fizzle out.
Your favorite analyst is probably now telling you something like gold and silver fell below it's key supports and could go lower to $1300 or even $1250 UNLESS it doesn't. Watch and wait for news on Syria, QE and debt ceiling. Well, yeah!
I'm really not making fun of your favorite technical analyst or whatever system they are using because some of them are pretty darn good at their jobs. As a matter of fact, I have defended their work twice in the last week based on historical precedent. It's just a fact of life that human's ability to predict the short term future is a precarious one unless you are a fly on the wall over in Blythe Masters office. And boy, I'd like to give that a try.
While the charts might be damaged, the reasons to own the metals are doing just fine. Demand has Never been better! I'm going to skip all the World Council numbers and the outrageous consumer demand in India and China because you have heard it before. If you still need convincing that it's a good time to own metals at this juncture in history, I'll have my secretary fax you the data sheet on the unprecedented debt, the on again/off again insolvency of our financial institutions, and the eternal state of war. Pin pricks my ass!
The fact is gold performed well coming off it's June lows and silver had it's best weekly rise in 5 years. Not too shabby but as I've said so many times the metals remain extremely volatile. Volatility remains the key word that all metal bugs need to learn to live with until you are told otherwise. For that matter, the world is in a volatile state with Syria still on the agenda, taper talk and once again congress is having another debate about raising the debt ceiling. Pluh-leeeze. Somebody stop this world and throw congress off this spinning planet.
Here is the scorecard for debt ceiling increases since the 1940's. Need I say more?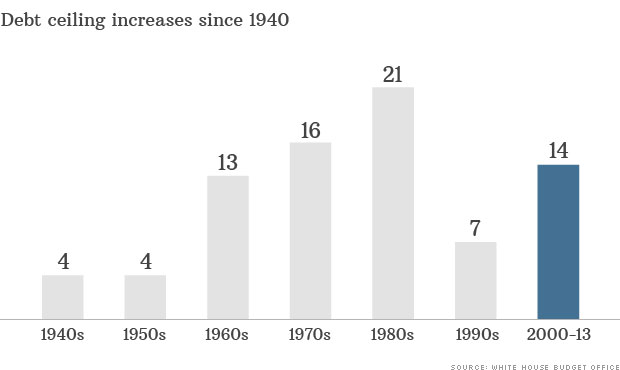 If you read Turd's last post or watched the video of Max Keiser interviewing the Turd, you also know that JP Morgan is looooong gold. As a matter of fact, they are now holding the longest position in any regulated futures market in history! 25% of the entire COMEX gold futures! Schwiiing!!!
INFLATION
As I've been saying and Argentus Maximus has been pointing out in his well written macro pieces, we simply haven't seen the type of inflation that gold bugs really enjoy. Sort of a paradoxical quandary all of you got yourself into as being being a gold bug. The thing you despise, inflation, is the thing you most need for your investment to do well. Kind of like rooting for the home team and the underdog at the same time.
With the Fed announcement coming up in a week, here is what I expect. CHANGE! If QE to infinity refers only to a swap, than I'm not on board. If it means, doing whatever is necessary, count me in. Of course, there is the remote possibility that they could let the economy crumble. I recommend you listen to Art Cashin's latest interview on KWN. He is talking the same playbook I am in regards to what could happen with QE. The fed could decide to get serious and drop some real cash into the economy or stimulate bank lending to ensure those root vegetables at the supermarket become a luxury item. I do the grocery shopping in my house and I can tell you that fruits and vegetables are not part of the economy experiencing stagflation.
Then there is the other possibility I've mentioned which we will call "structural changes" A nice way of saying stealing your money. My friend DPH, pointed out recently that the FDIC has adopted new regulations. If you are a foreign depositor in an overseas branch of a US bank, you ain't getting paid. I'm no actuary but it seems to me when your insurance denies you coverage, you are considered a risk.
Foreign Deposits In US Banks Not Insured
Putin Writes Op-ED to NYT
Now for some fun!!! On Thursday, Putin brought his case against US intervention in Syria directly to the American people by submitting an Op Ed Pieceto the New York Times.
Let me tell you, this was some 1st class entertainment. The MSM and the folks on Capital Hill are ripping it apart. Putin really stoked the fires and it's probably exactly what he was trying to do. The United Nations going the way of the League of Nations, The US supporting armed terrorists, and American "exceptionalism" as stated by the Prez in his Syrian speech.

Putin writes: "Millions around the world increasingly see America not as a model of democracy but as relying solely on brute force, cobbling coalitions together under the slogan "you're either with us or against us."
I think Putin was on the mark with the American exceptionalism however, I'd call it Divine Rights of Kings. The president believes he has been consecrated as a God and now it is our responsibility to stop the scourge of tyranny around the world. Who died and made him king? More on divine right of kings and deification in my next article.
A Leisure Moment

Finally, as promised I'd keep you abreast of the latest breaking news for the fall foliage season. I am a man of my word. In case you didn't know, humidity is NOT the recipe for brilliant leaves so unless it gets cool and sunny quick, we're going to pass the color phase and go right to brown. But right now it's too early to tell. Right now Maine is showing some promise.
This picture in from Durham, Maine
And here are the reports for NEast, SEast and Midwest. Our non US Turds are going to have to be the beat reporters for their own countries
Rock on! (Maravich that's your cue)