Speaking of hoarding precious metals...
Stacking is an evergreen topic here on TFMR. The Chinese, Russian and other select Central Banks do it. Turdites most certainly do it. I would venture that a non-trivial portion of ZH visitors do it. Apparently JPM is doing it. Some say Soros is doing it (via derivative financial instruments aimed at controlling physical supply). While in terms of the general population it seems way too early to say it is becoming all the rage, but it does appear that the potential importance of having a 'stack' is slowly becoming more visible. Recently, most of the attention has been on the King of Metals, what (if anything) is to be known about his little sister?
Video unavailable
A few months ago, fellow Turdite Byzantium brought up a question that I have been trying to answer off and on ever since – what's going on with UK and silver?
The chart below shows the cumulative (inverted) trade balance for the UK, in million troy ounces – the imports minus the exports, from 1998. The data is source Her Majesty's Office for National Statistics. The UK does not produce silver domestically in appreciable amounts, according to the British Geological Survey – so (nearly) all silver in country is sourced from elsewhere. And it seems like the UK has been importing and holding onto a SERIOUS amount of silver – especially since the previous large cascade down in silver prices took place in January 2012. As it stands today, the UK seems to have imported and kept a silver hoard comparable to the cumulative US silver production since 1998 (the date from which trade balance data is available).
Bear in mind, US silver mine production is merely a point of reference, the US in fact gets more than double this amount of silver from silver refining/recycling and quintuple from imports. You can find a lot of information at the USGS and BGS sites. I would especially recommend a perusal of the Mineral Commodities Profile for Silver, by W.C. Butterman and H.E. Hilliard (2004) and the annually published Mineral Commodity Summaries (2013 report here) for more background information.
The 318 million troy ounces (purportedly) stored in trust for the SLV account for about half of the cumulative trade imbalance (and you can see the inventory accumulation line up nicely with the corresponding part of the silver graph) – but where are the OTHER 300m troy ounces going?
This is not intended to be a shocking expose, and I have no grand or explosive claims to make. I cannot even claim it is significant – there are any number of things I may be overlooking, or making false assumptions about. This is merely something that has been puzzling me for quite a while. Why has the UK hoovered up all this silver? Why since January 2012? The parabolic 'accumulation' seems to have paused in April 2013 – why?
Is there a newfound Britannia Mania? Was it in preparation for The Wedding of the Century (my GOD those are ugly coins)? Are we getting ready to put the 'sterling' back into the 'pound'? (for an excellent illustration of the latter, check out silvernomics' post on the topic here) Are Tomahawks now being manufactured in the UK?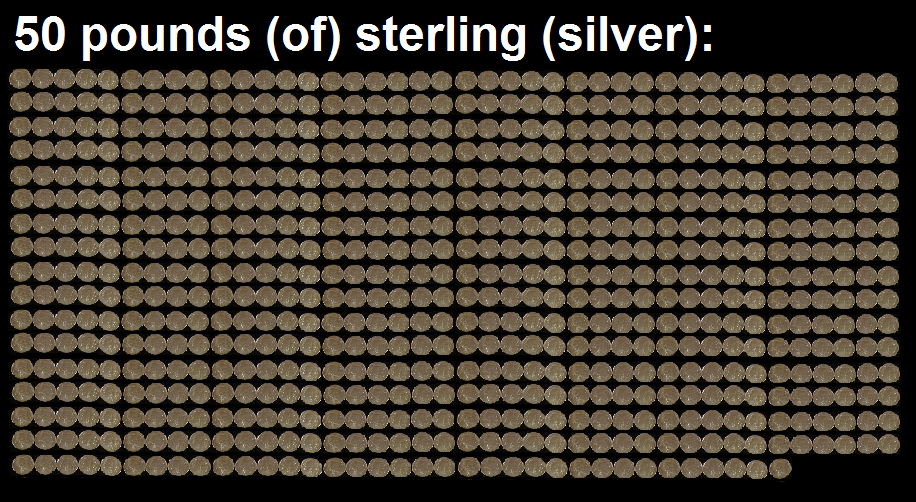 All questions, few answers from me --- hopefully you, dear reader will have some ideas.
Some background materials, for anyone inclined to take a peek:
Comprehensive silver materials from USGS: https://minerals.usgs.gov/minerals/pubs/commodity/silver/index.html#mcs
Vault list of bars (SLV): https://ebts.jpmorgan.com/metalicsWebApp/ebts_downloads/BONY_SLV.pdf
Prospectus: https://us.ishares.com/content/stream.jsp?url=/content/en_us/repository/resource/prospectus/is_p_slv.pdf
Inspection certs: https://us.ishares.com/library/kits/slv_vault_inspection_certificates.htm
Info page: https://us.ishares.com/product_info/fund/downloads/SLV.htm