I know what you're thinking. How can I guy who is dead wrong all the time have his own website? Good question! Maybe it has something to do with this: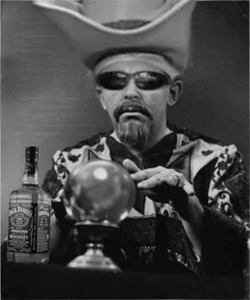 But, seriously, it's a good question. How can I be so freaking wrong all of the time? I mean, it's not like I just fell off the turnip truck and began drawing lines on charts. I'd been pretty good at this stuff for quite a while. So what has happened, aside from the obvious Jack Daniels, methamphetamine, valium and glue-sniffing addictions?
I think the answer lies with three things:
Fed/PD involvement in manipulating nearly all markets
The predominance of High Frequency Trading in nearly all markets
And the coordination of numbers 1 and 2 above
For example, many wonder at how the U.S. stock market can keep going up. That's easy! The Fed's Primary Dealers receive, on average, about $2,000,000,000 each business day, direct from The Fed. Now most of this gets reinvested into treasuries in order to prop up the bond market but a considerable amount is left over each day and the majority of that money gets plowed into S&P futures where the attendant leverage multiplies the buying effect as much as 20 to 30 times. As Ruprecht would say: "That's a lot."
So, of course, the stock market isn't going up because your neighbor just put $10,000 into The Growth Fund of America or some old lady just bought 200 shares of ConEd. It's going up because The Fed is giving free money to the banks in order to prop it up. From there, the HFTs which represent about 80% of the daily volume, take over and bada-bing, bada-boom, you're at Dow 15,000.
And with all this free money sloshing around and being driven by mindless computers, technicals and fundamentals get thrown out the window. Technical analysis only works if a group of relatively risk-averse human beings actually see the same formations and lines and then choose to act in those certain spots. When you're dealing with computers and risk-free cash, you can do anything you want!
Sure, two days ago the POSX looked like it was headed lower. It doesn't matter. The euro looked stable to higher then, too. So what? Crude, the grains, copper...all the same. All driven by momo-chasing HFT computer algos which haphazardly buy one day and sell the next.
So what does this mean? Well, I'm still going to tell you what I think and what I expect but I must warn you again: Attempting to profit by trading in this environment is suicidal. You will think you are doing the right thing and then, for example, a baseless rumor gets floated after the Comex close and gold is whacked for $40 before it can re-open. How's that stop order treating ya? Brutal, just brutal.
(Of course, none of this is new. For those die-hards that want to keep trading, I set up the service with Andrew Maguire over a year ago. You might think it's too expensive but in return I'll ask you how much money you've lost over the past 30 days alone? Considering Andy's performance, I'd say his fee is pretty cheap. If you want to learn more, just click the ad on the right side of this page.)
So here we are. The machines have pounded us all the way to $1425 and $23.30. Ugh. Never mind that The Bernank made no mention of "tapering" today. Never mind that Andy reported that today was the largest physical allocation month-to-date in London. Never mind the CoT reports. Never mind the 300 tonnes taken out of the GLD YTD. Never mind the 100 tonnes taken out of Comex vaults YTD. Just...never mind. The machines are in charge and they will continue to be in charge...until they're not.
And when might that happen? Lots of talk out there about imminent collapses and paper disconnects. Chatter galore on force majeure and cash settlement. Oh sure, this is going to happen one day. No doubt about it. But just don't go getting your hopes up that that day is going to be next Tuesday. If we've learned anything these past three years or so it's this: The main power possessed by The Powers That Be is the power to put off the inevitable. The music will keep playing and the party will continue until the day comes when it simply doesn't. That day is coming and it will likely be at a moment not of TPTB's choosing. Clinging to power and the Old Order, the bullion banks will likely create paper metal until there simply isn't an ounce left that they can steal hypothecate and leverage.
Your only winning move remains the acquisition and storage of physical precious metal. And I don't mean the CEF or the PHYS or a certificate from an LBMA vault. I mean metal that you hold in your own two hands. The real stuff. Period. I know there are production and delivery delays. Who cares. Acquire it and deliver it, while you still can. In order to make this easier, I've assembled a list of "affiliates" for you. They can be found here: https://www.tfmetalsreport.com/precious-metals-store and here: https://www.hardassetsalliance.com/cm/precious-metals-breakthrough. If you want to hasten the decline of TPTB, go to these businesses today and order some metal.
Here are your mostly-worthless charts. Again, you and I can see where there should be support and buying pressure against the shorts. But that hardly matters when some goon no one has ever heard of can float a rumor and whack the global price of gold for $40.
And I know this is painful but I'm going to give you a CoT update later today, nonetheless. Cast it aside if you want. Claim that it's just fudged-up and manipulated, too, if you want. But...we are talking about levels of Spec shorting that we haven't seen since 2001 and, in some cases, even longer. This fundamental market structure will sometime soon show itself as a bullish indicator once again. It's just a matter of when. Now "when" might be when the banks are finally net long both gold and silver. We'll see. But for now, we'll just keep monitoring the levels in each category and discussing it every Friday.
Anyway, that's all for today. I hope you are able to have an enjoyable and relaxing weekend, regardless of all this nonsense. Keep calm and add to your stack.
TF