Turdville Performing Arts Center
November 9, 2014 - 9:06pm
#1
Turdville Performing Arts Center
Just felt there a was need for somewhere to share your favorite music and videos.
November 10, 2014 - 11:22pm
#11
Panpipes continued
Let's talk panpipes.  A very interesting subject indeed and we're look at some more musical samples.  Of course, here in America, you don't hear much panpipes and they don't give them out at your local highschool.  We are a fairly panless culture.  But could such a simple instrument tell us anything about the UNTOLD history of the world?  Intermingling of civilizations that we've been taught had no connection?  
There are pre-Columbian Pan flutes that date back to 4200 bc and we find panflutes all through the America's.  The panflute that SP posted is a Romanian version. They exist in different forms through out Europe including in Ancient Greece named after the God Pan and on Greek coins. 
China they call it pai xiao,
throughout the Korean Peninsula.  And even on the Solomon Islands where the indigenous people of the islands play it large groups and many African panflutes have been found and even Captain James Cook collected some in his journey's.   
Now take a look at the places in the America's where the panflute has found to exist. 
The archeological digs in the US go back to the Hopewllian Panpipes. 
Modern day science will tell ya that the  Hopewell Tradition or Culture is a term applied diverse Native American populations inhabiting much of the Eastern Woodlands of North America between 200 BC - 500 AD. (This region spans Southeastern Canada to the Southeastern United States, and as far inland as the Mississippi River and is most commonly described as centered in the Ohio River Valley. A large number of panpipes have been found in this area, frequently as burial artifacts.   I'll tell ya they weren't Native American's.  They white man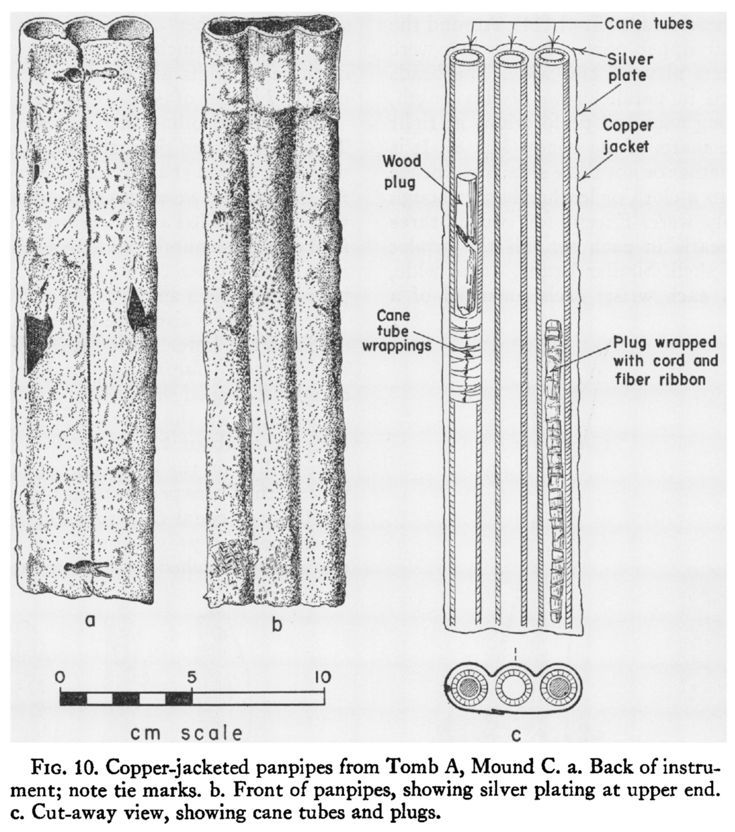 Now take a good look at this
The obvious question who was mining copper 200 bc-500 ad? Who had that kind of equipment to dig into the earth? 
Hint: Ask somebody from the Smithsonian, they'll give you an answer. Ask a Native American familiar with the mythology surrounding this topic they will give you another answer. For my money, I'm going with the native version of the story. The more you dig, the deeper the rabbit hole goes on this flute story. 
Vine Deloria, a Native American author, professor of law,who promoted a greater understanding of native American history said this:
 
"Modern day archaeology and anthropology have nearly sealed the door on our imaginations, broadly interpreting the North American past as devoid of anything unusual in the way of great cultures characterized by a people of unusual demeanor. The great interloper of ancient burial grounds, the nineteenth century Smithsonian Institution, created a one-way portal, through which uncounted bones have been spirited. This door and the contents of its vault are virtually sealed off to anyone, but government officials. Among these bones may lay answers not even sought by these officials concerning the deep past."
Comments for "Turdville Performing Arts Center"